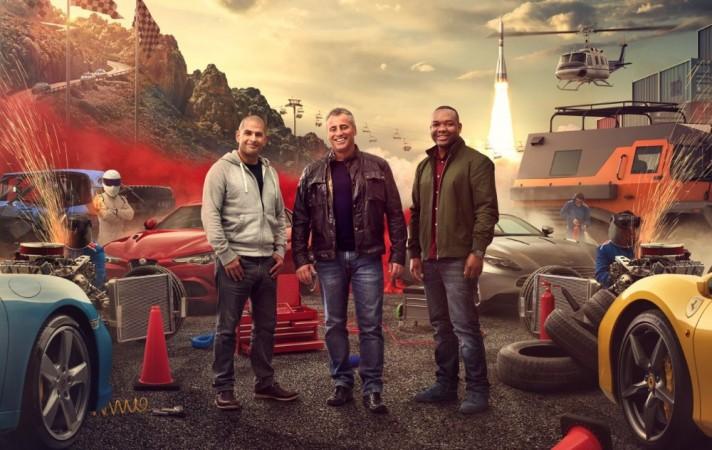 British television series BBC Top Gear's new season will return to TV screens on March 5, Sunday. The Series 24 will be anchored by Friends star Matt LeBlanc, YouTube car review sensation Chris Harris and motoring journalist Rory Reid.
Also read: BBC Top Gear Series 24 trailer released
The new series comes after an eventful Series 23 aired in June and July 2016. The first series post infamous exit of hosts Jeremy Clarkson, Richard Hammond, and James May has failed to impress audience. The Series 23 was led by Chris Evans and viewership fell from 4.3 million to 1.9 million by the end of the series. This also led to the exit of Evans.
LeBlanc, Reid and Harris were also part of six presenters in Series 23, others being lead presenter Evans, Sabine Schmitz and Eddie Jordan. For the new season, three men hosting team is in line with the Clarkson, Hammond and May era till series 22.
BBC recently released a trailer for Series 24 that showed Harris drifting a 1,036bhp Ferrari FXX K, a car chase scene in which LeBlanc drives an Aston Martin DB11, Reid crashing his taxi in Kazakhstan and LeBlanc picking up naked hitchhikers in an Avtoros Shaman. This indicates that the show will be fun to watch just like other episodes before Series 23. What more, the trailer ends with an appearance by The Stig with fire on his right arm.
BBC affirms a lot more car stuff has been included in Series 24 and details will be released in due course. The show will go on air on March 5, 8pm on BBC Two and BBC Two HD.
The former presenters of the show, Clarkson, Hammond and May, are now spearheading a new show on Amazon Prime -- The Grand Tour. The first season of the show with 13 episodes finished airing on February 3. The Season 2 has been scheduled for later this year.