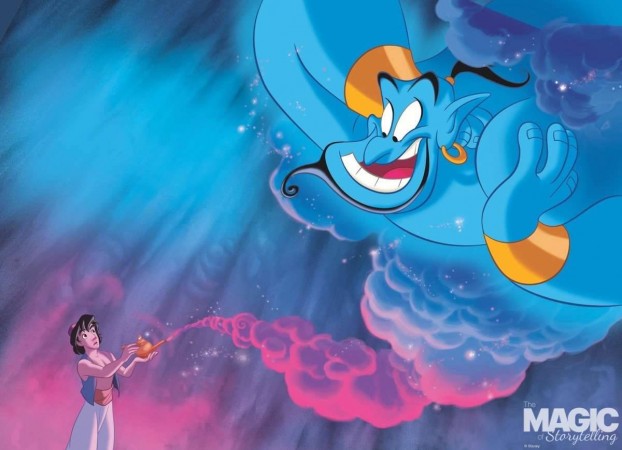 It is clear that nobody could fill the shoes of Robin William's Genie. The actor who made Genie an iconic role with his voice in the 1992 animation movie is still talked about every time someone discusses Aladdin. Though we miss the actor dearly and look back at his work, Disney has decided to respect the past and move ahead to finding the new Genie.
Also Read: Tom Hardy to be next Wolverine? Fans pick Taboo actor to replace Hugh Jackman in upcoming X-Men series
One among the many live action movies that the studio has lined up, after the success of Beauty and The Beast and The Jungle Book, is Aladdin. The studio is remaking the animation movie with Guy Ritchie at the helm. While the star cast is yet to be confirmed, casting news about the film created chaos on social media.
The news broke out that Disney is in talks with Will Smith to play the hilarious role of Genie and this didn't go down well with Disney followers. Fans of the classic tale took to Twitter and Facebook to share their spilt opinions about the Men in Black actor considered for the role.
While there was a great number of twitter handles and Facebookers who were clear that they cannot accept Smith for the role, a few defended the actor stating he could surprise everyone. So International Business Times India decided to conduct a Twitter and Facebook poll to find out, if not Smith, who would they like to see as Genie?
We gave the social platforms four options: Dwayne Johnson, James Monroe Iglehart, Russell Peters and Jon Favreau. Dwayne Johnson proved that he could play a serious, sarcastic and emotional character when he voiced Maui in Moana.
James Monroe Iglehart is a synonym to Genie in the theatre world. The stage artiste has won a Tony Award for his role as Genie in the original Broadway production of Genie. Who better to play Genie than the award winning Genie?
Russell Peters: one word – comic timing! Peters is performer, a brilliant comedian and knows how to hit the right punch. And lastly, The Chef actor and The Jungle Book director, Jon Favreau. An amazing actor, he already knows the technicalities that go into making a perfect live action role and his voice stands perfect for the role.
So what has the social media said?
About 73 per cent voters want to see Fast and Furious actor Dwayne Johnson play the role of Genie, whereas 12 per cent votes have been cast to Russell Peters. Broadway Genie actor James Monroe Iglehart stood third with 8 per cent and The Lion King live action movie director Favreau was the least chosen.
While polls have made it clear that they want Dwayne Johnson to be casted as Genie, a few Disney fans still stand by Will Smith. "I think Smith is quite an unconventional actor from the roles he does. From pursuit of happiness to seven pounds and even his recent batshit crazy role in suicide squad makes him versatile," shared Nina Justin.
Adding to her opinion, Anu Jhangiani shared, "Smith is a smooth talker and he's fun like the genie. The Prince of Bell Air makes a fitting voice for the Genie."
While there is no confirmation, we'll have to wait and watch to see who Disney finally casts as Genie.