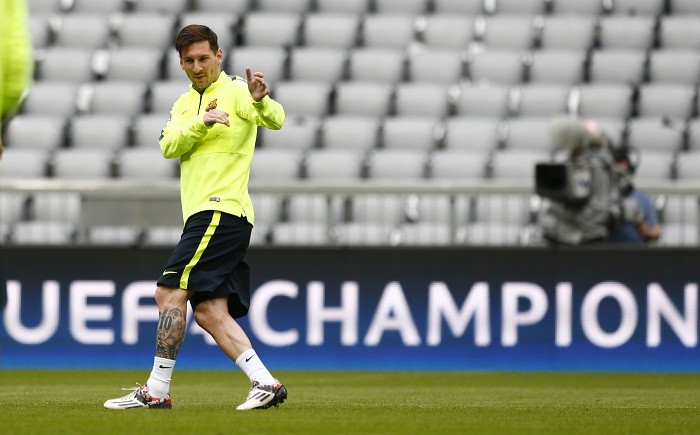 Lionel Messi was mesmerising, lethal and magical for Barcelona in the first leg of the Champions League semifinal against Bayern Munich. Come Tuesday, in the second leg at the Allianz Arena, Pep Guardiola's Bayern will need to be that, and more, if they are to script one of those European comebacks that will be talked about for years and years.
Messi was the deciding factor between a 3-0 win for Barcelona and a tight encounter going into the second leg in Munich, and if the Argentine wonder produces some of his magic again, then Bayern can forget about winning a second Champions League title in three years.
You would have though Guardiola is the man most suited to find a way to negate Messi's threat, but instead, when that time for inspiration came it was Messi who provided it, not once, but twice, in the space of a few minutes, before finishing Bayern off in stoppage time courtesy an assist to Neymar.
"You can't be too confident as you have to respect your opponent, so we will need to keep our players calm," Barcelona manager Luis Enrique said. "We know how big Bayern are so we will try our best not to allow them too many chances. They will have their fans behind them, so we will try to keep possession and create as much as possible up front.
"If we take the lead it will be good for us. However, Bayern have the quality to score and did cause us problems in Barcelona. The common goal is to reach the final. Bayern will go on the attack and try to create chances – I know what [Guardiola] is going to try to do and I'm looking forward to a really nice game."
Bayern have been irresistible in the two second legs of the previous two knockout matches of the Champions League this season, thumping Shakhtar Donetsk 7-0 in the round of 16, before blowing away FC Porto 6-1, after conceding three goals to the Portuguese side in the first leg of the quarterfinals.
The problem for Bayern Munich, and Guardiola and his players will know that very well, is that Barcelona are a completely different beast, and to make matters worse, if they concede just one goal on Tuesday, it will mean they have to score a minimum of five to advance to the final in Berlin.
And the way Messi, Neymar and Luis Suarez have been playing, it is difficult to envisage all three of them not scoring on the night.
Hope, however, is the only thing to keep Bayern Munich from throwing in the towel, and the players and manager will go into the game looking to add another "Man do you remember that comeback, that was unbelievable" moment in Champions League football.
"We are 3-0 down and we are up against the best team of the last 15 years," Guardiola said. "We have to defend well first and foremost and then see how the game goes. You never know what might happen -- for 77 minutes it was 0-0 in Barcelona.
"Of course we have to score goals. We have to make use of the few chances we will probably get, but with our ability, the game will show what we can do. We did not expect to win by such big margins against Porto or Shakhtar Donetsk. We have to be patient. We can't do everything we need to do in 20–25 minutes.
"Everything comes down to the players. We are Bayern and I never think we have no chance. It is not a game we cannot win, but we have to use our heads and our hearts."
Where to Watch Live
Get the Video Highlights of the Match, with all the goals, HERE
The semifinal second leg is scheduled to begin at 8:45 pm local time (12:15am IST, 7:45pm BST, 2:45pm ET), with live TV coverage in India on Ten Action, Ten Sports and Ten HD. The match can also be watched via live streaming online by viewers in India on Ten Sports Live.
Watch Bayern Munich vs Barcelona live in the UK live on ITV1, while viewers can also live stream the big match online on ITV Player. US viewers can watch the game live on Fox Sports 1 or online on Fox Soccer 2Go. Audience in Canada can watch via a live stream on Sportsnet World.
Viewers across the world can watch Pep Guardiola vs Lionel Messi Part II via live streaming on UEFA Video.
Team news: Bayern Munich: Guardiola will probably be wondering how the tie would have panned out if he had his two terrific wingers – Arjen Robben and Franck Ribery – available, but without them Bayern must fight on again. Also missing for the German champions, who have lost their last four matches in all competitions, the first time that has happened since the 1990s, are Holger Badstuber and David Alaba, while Sebastian Rode is a doubt with a hamstring injury.
Barcelona: With Guardiola struggling to find the right formation and rhythm without his best players, Enrique has no such worries, as Barcelona go into the second leg semifinal with a clean bill of health.
Expected lineups: Bayern Munich: Neuer; Rafinha, Benatia, Boateng, Bernat; Lahm, Xabi Alonso, Thiago; Muller, Lewandowski, Gotze.
Barcelona: Ter Stegen; Alves, Pique, Mascherano, Alba; Rakitic, Busquets, Iniesta, Messi, Suarez, Neymar.