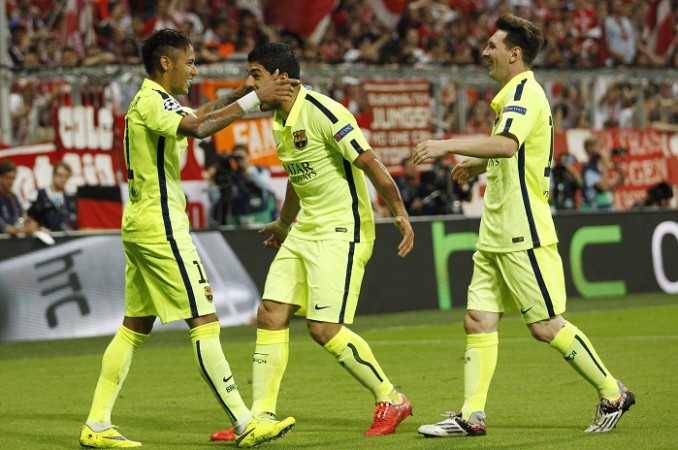 It was as expected – Bayern Munich coming out a better side at home, even pulling off a victory over Barcelona. But then when you have the electric "MSN" partnership, there is really no way you can prevent this Barcelona side from scoring goals. Lionel Messi did not produce moments of magic via goals in the Champions League semifinal second leg at the Allianz Arena on Tuesday, but the little magician was still captivating, drawing those gasps and oohs and aahs again, with Luis Suarez and Neymar also invoking the same reactions.
Trailing 3-0 after the first leg, Bayern gave themselves a sliver of hope of an extraordinary comeback by scoring in the 7th minute via Mehdi Benatia, who was left all alone, with enough room to farm for rice, to head past Marc Andre Ter Stegen's right hand from a corner.
A devastating and quick counter-attack in a flash on 15 minutes, though, vanished those hopes quickly enough, with Messi slipping a delightful through ball to Suarez, who then picked out Neymar perfectly for a tap-in.
The match was over, 14 minutes later, as another attack from this outstanding trio – the same scenario, Messi passing to Suarez, with the Uruguayan again unselfishly finding Neymar to score – put Barcelona 2-1 up on the night and the tie to bed.
Bayern needed to score five unanswered goals in an hour to make it through to their second final in three years, but with Ter Stegen in inspired form, those hopes were quickly quelled, even if Robert Lewandowski and Thomas Muller ensured the German champions at least won on the night.
"I want to congratulate my players," Bayern Munich and former Barcelona coach Pep Guardiola said. "Congratulations also to Barcelona -- I hope they win a fifth European title in Berlin. We lost another semi-final – we could have avoided this with a better defensive performance, but today I am satisfied with my team. Barcelona deserve to be in the final."
Luis Enrique has added another dimension to this Barcelona side by making them lethal on the counter-attack, and when it is Messi, Suarez and Neymar running at you, there is only ever going to be one result, as Bayern Munich found out more than a few times over the two legs of this enthralling Champions League semifinal.
"It wasn't easy for us after Bayern took the lead," said Enrique who looked plenty worried after that Benatia header went in inside 10 minutes. "But we reacted well, scored an equaliser and secured a halftime advantage.
"The second half was different because they attacked more, but we have got to the final and we can still win every competition we are in."
So, Barcelona have booked their place in the final in Berlin on 6 June, and Wednesday will reveal if it will be an El Clasico Champions League final or a Spanish-Italian finale.