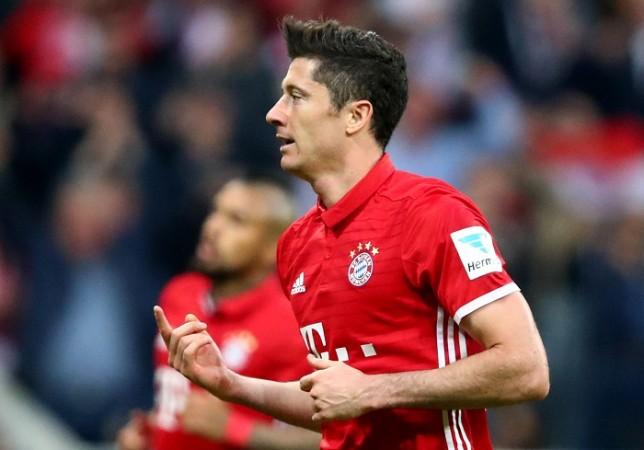 Bayern Munich chief executive Karl-Heinz Rummenigge has denied reports that Robert Lewandowski is unhappy at the Allianz Arena and dismissed the possibility of the striker being sold at the end of the season.
Lewandowski, 29, ended his association with his agent of 10 years, Cezary Kucharski, and signed with Pini Zahavi last month, sparking speculation that the Poland international was laying the groundwork for a big-money summer transfer.
Manchester United, Paris Saint-Germain and Real Madrid have all been linked with moves for the striker, who has three years left on his contract at the Allianz Arena.
However, Rummenigge said he is "100 per cent" sure that Lewandowski would still be at Bayern next season.
"It's well known that I like to make a bet every now and again," the Bayern CEO told Kicker. "I'll take the bet that Robert is 100% playing for Bayern Munich next season.
Rummenigge went on to describe Lewandowski as "an extremely important part of our team".
"He is perhaps the best number 9 in Europe," he added.
Lewandowski has scored 23 goals in 25 Bundesliga appearances for table-topping Bayern this season.
Zahavi was non-committal in February when asked if he was hired by Lewandowski to facilitate a transfer to Real Madrid.
"I am glad that Robert decided to cooperate with me. I will do everything to work well in his name," the agent was reported as saying by the Daily Mirror.
"He is a great footballer. He is the best striker in the world. Therefore, it is not surprising that I have signals about the interest of his person in all major clubs.
"Will Robert go to Real Madrid? We'll see. Now it's time for me to do my job."
Meanwhile, reports say former Borussia Dortmund coach Thomas Tuchel has turned down the chance to take over from Jupp Heynckes as Bayern boss at the end of the season.
Heynckes came out of retirement after Carlo Ancelotti was sacked last September and will step down from his role as Bayern head coach at the end of the season.
The Bavarian giants hold a 17-point lead over Schalke at the top of the Bundesliga table.