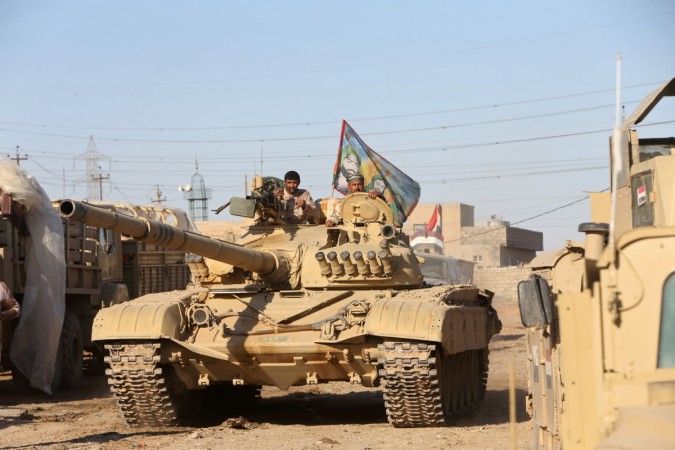 As Iraqi forces continue to fight resistance posed by the Islamic State in Mosul, a group of armed civilians have also joined the battle against the militant group.
"There is a demonstration from within Mosul, on the [east] side. Some of them have guns — they have AKs and pistols," spokesman for Iraq's Ministry of Defence, Brig. Gen. Tahsin Ibrahim, was quoted as saying by LA Times.
Ibrahim added that a group of civilians have organised a unit that is "inside now fighting ISIS." He highlighted that the ministry is in contact with the civilian group and they are positive about their efforts.
The Iraqi forces also say that support of the civilians in this battle is crucial for their win. However, they have a challenge ahead of them, similar to that of the Iraqi troops, which is to combat the ISIS without harming the innocent lives of the civilians in the process.
The Iraqi forces are struggling to combat ISIS, which takes civilians as hostage, execute them and even blend with them according to the situation.
Mosul, a city in northern Iraq, has been governed by ISIS since June 2014 and is the last remaining major city in Iraq under the militant group's control. Around 30,000 Iraqi troops, Kurdish fighters, Shia militiamen and Sunni Arab tribesmen backed by US-led airstrikes launched an offensive against ISIS to retake Mosul on October 17.
The militants had taken control of swaths of Syria and Iraq committing massacres, sexual enslavement of women and genocide of religious deviants.
The official said that the Iraqi counter-terrorism troops entered the eastern Mosul neighbourhoods of Adl, Entisar, Karama, Nur and Qahira on Friday. Reports state that they are marching towards the five bridges which cover the Tigris River.
The spokesperson for the United States-led coalition in Iraq and US Air Force, Colonel John Dorrian, on Friday said that a significant progress has been made in the battle of Mosul. He said that some of the Iraqi troops have already reached Mosul, forcing ISIS to fall back.