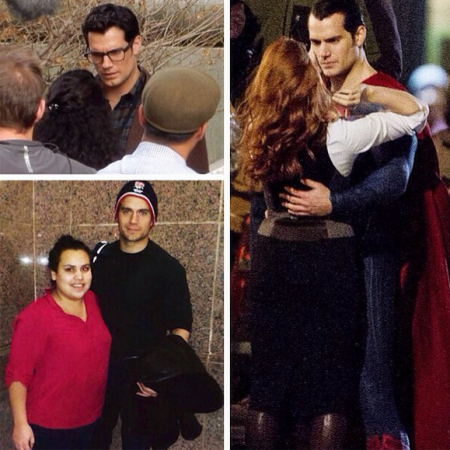 New images from the sets of "Batman V Superman: Dawn of Justice" show Henry Cavill and Amy Adams in character, essaying the roles of Clark Kent and Lois Lane.
The photos, which were posted on the Instagram account of the blog Henry Cavill News, were reportedly taken in El Paso, Texas, and shows the characters embracing.
Filming of the movie has taken place in a number of locations, and news from the sets have sustained fans' interest in the movie.
Rumours from the set of "Batman V Superman: Dawn of Justice" also have it that a new supervillain besides Lex Luthor will be featured in Zack Snyder's multi-hero caper.
As per Badass Digest, the latest villain will be fan-favourite KGBeast, whose real name is Anatoli Knyazev, a Batman villain introduced in 1988's Ten Nights of the Beast. The character is a recurring member of the Suicide Squad , and although he is majorly a villain in the Batman comics, he has also faced off Aquaman.
But it is not immediately known if the character will be similar to the one in the comics.
Interestingly, this is not the first mention of KGBeast as a possible character in the movie. Spoilers from the set previously noted that a trailer was set aside bearing the name "Knyazev" on its door.
"You won't see this version of KGBeast in the movie, but the character name is there – in the script at least – for those who care to pick up on these little easter eggs," a previous Badass Digest report noted, adding that character of Joker might also be mentioned in the movie.
"Batman V Superman: Dawn of Justice" will be released in March 2016, and the story is a followup to "Man of Steel." Cavill returns as Clark Kent and the plot picks up following the events of the Kryptonian attack on Metropolis. Although Ben Affleck's Bruce Wayne shows up to hold Superman accountable for the destruction, they soon form a partnership that lays the foundation of the Justice League.