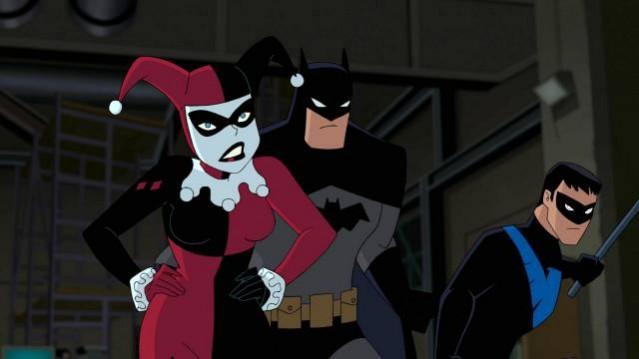 Warner Bros. already released the trailer for the Batman And Harley Quinn animated movie. And recently the release date and cover art for the forthcoming DC movie has been unveiled.
Also read: Batman and Harley Quinn animated movie first look and cast revealed: THIS Big Bang Theory star is voicing Harley Quinn
DC released a sneak peek of the movie in last March which features Batman, Harley Quinn and Nightwing inside the Batmobile. Batman (voiced by Kevin Conroy) is seen behind the wheel while Harley Quinn (voiced by Big Bang Theory actress Melissa Rauch) seems to be busy applying makeup.
The animated movie, which is direct-to-download, is based on an original DC animation story. The story sees Poison Ivy and Jason Woodrue (a.k.a. The Floronic Man) embark on an ecological quest to save the planet – and, unfortunately, eliminate most of the humankind along the way. To save humanity, Batman and Nightwing are forced to enlist Harley Quinn to catch Poison Ivy, Harley's BFF and frequent partner-in-crime. But Batman's patience is put to test by the unpredictable and untrustworthy Harley during the twists and turns the reluctant companions face during their bumpy road trip. The result is a thrill ride of action, adventure and comedy no Batman fan has ever seen before.
Watch the trailer below.
The stellar voice cast also includes Loren Lester as Nightwing, Kevin Michael Richardson as Poison Ivy & Jason Woodrue, respectively.
Directed by Sam Liu (Batman: The Killing Joke) Batman and Harley Quinn animated movie arrives on August 15 on Digital and August 29 on Ultra HD Blu-ray Combo Pack, Blu-ray Deluxe Giftset, Blu-ray Combo Pack and DVD. Check the cover art of the movie below.