Basil Thampi would have been disappointed after the unofficial first of the five-match One-Day series between India A and New Zealand A was abandoned due to rain in Visakhapatnam on Friday, October 6, as the young pacer was eager to make a mark against the visiting Black Caps team.
The 24-year-old Kerala pacer was among the few young names who was retained for all five matches of the rubber, despite All India Senior Selection Committee of the Board of Control for Cricket in India (BCCI) naming two different squads - Shreyas Iyer-led squad for first three matches, Rishabh Pant-led side for the last two.
On the eve of the first unofficial match, which has now been pushed to Saturday, Thampi told International Business Times, India, that he is excited to work with legendary cricketer Rahul Dravid for the second time following his trip to South Africa for a tri-series, involving South Africa A and Afghanistan A, earlier this year.
"I am thinking about the New Zealand A series as the start of the new season. I want to do well.
I was excited to work with Rahul Dravid for the first time in South Africa I have got the chance again," Thampi said.
He added: "I did well last time, but unfortunately, was not able to pick up a lot of wickets. Against New Zealand, I want to contribute by picking up more wickets. There is also this advantage of playing at home this time."
Big break in 2017
If one were to plot a career graph for Thampi, a sudden upward spike in 2017 would be telling feature of it. The right-arm fast-bowler was not even a regular in Kerala's Ranji Trophy squad last year as he got to play only six of the team's nine matches.
However, Thampi grabbed the limelight when he impressed with his consistent pace during his stint at the South Zone T20s earlier this year. The sturdy pacer was then rewarded with an Indian Premier League (IPL) contract when Gujarat Lions signed him for the 2017 edition for Rs 85 lakh, which was nearly nine times his base price.
Thampi kept it simple in the cash-rich league. He kept doing what he does best -- trouble batsmen with his pace and yorkers. His first wicket in IPL was legendary T20I batsman Chris Gayle. He finished the season with 10 more wickets as the Lions' second-highest wicket-taker.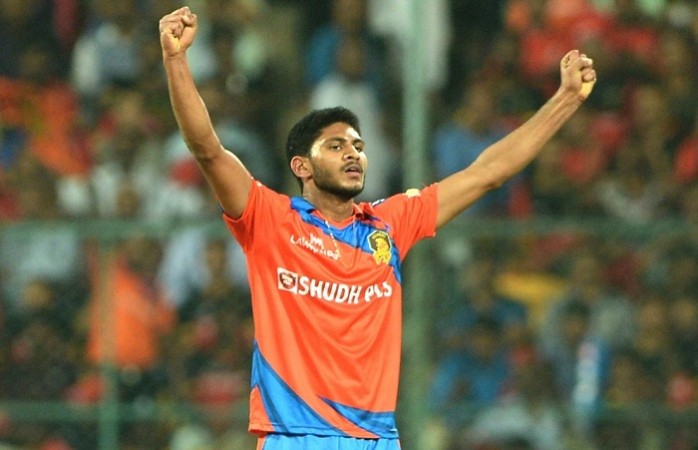 However, Thampi would not have had the opportunity to rub shoulders with the best in the business if he had not found the right men at the right time during the budding stages of his cricket career.
When Thampi shared Kerala's love for football
Born in Kerala, which is one of the very few states that loves football more than anything else, it was not surprising that Thampi loved the sport during his childhood. He said he wanted to follow the footsteps of his father, who was a club-level football player.
Thampi revealed he used to occasionally visit neighbourhood ground to try his hand at cricket. It was during one such session that a life-changing passer-by watched him play.
"I was playing football in Kerala. My father was a club-level football player. I occasionally go to the neighbourhood grounds to play cricket. It was there Vishwajeet Prasad, the director of Perumbavoor Cricket Club in Kerala, saw me bowling and asked me to join the club. From there I went on to impress in a U-17 league before representing the U-19 Kerala team," Thampi said.
A job in Dubai job over cricket
Even after enjoying a lot of success as a teenager, Thampi was not sure whether to pursue cricket as a professional career. The young man from Kerala, like many other young men from his state, wanted to complete his graduation and head to Dubai in search of a secure future.
The pacer even called his coaches and told them he would not return to training anytime soon until he met former Kerala wicketkeeper-batsman CM Deepak, who persuaded him to continue hurling down toe-crushers.
"I thought I would get a proper degree and go to Dubai or any other foreign country. It was then CM Deepak came into my life. He was the secretary of a local club, Swanton Cricket Club. He asked me to continue for two to three years in cricket. I did it just for him," Thampi said.
"He then sent me to Chennai, where I played for Chemplast Sanmar. I worked under Tinu Yohanan [former India pacer] for around six months. When I returned, I got Kerala T20 senior selection. I also got an offer to train at the MRF pace foundation under Glenn McGrath."
Thampi should be grateful to these men as he is now not far away from representing India at the highest level. The right-arm pacer is among the favourites to get a national call-up if India opt to field a second-string team against the visiting Sri Lankan team in November-December.
Dravid's simple approach
Thampi is not thinking too far ahead, but wants to make the most of Dravid's guidance during the ongoing New Zealand A series. It seems, the Kerala pacer loves working with the "cool man", who doesn't make things "complicated".
"He [Dravid] is a very cool man, he keeps the mood in the dressing room light. He speaks about only cricket whenever we speak. He says it's all about mind games. He talks about match situations, tells me what to do in various situations. The best thing is he doesn't make things complicated, he makes us understand things with a simple approach," Thampi said.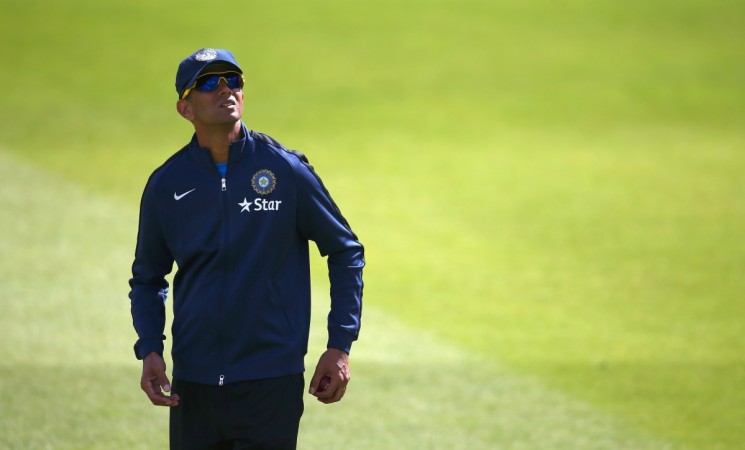 'Injury is pacers' close friend'
Thampi, these days, is giving a lot of focus to staying fit and maintaining his pace. While stressing on the need to remain fit in the Kohli era, the Kerala pacer promises he will never compromise his pace for anything else. And that's exactly what McGrath and Dravid have told him too.
"My strong point is my pace. All the coaches I have worked under so far, including Dravid and Glenn McGrath, have encouraged me to keep up my pace. They have asked me not to focus too much on swing, but even I do I have been asked not to compromise on my pace," Thampi said.
He added: "Also, fitness is very important for a fast bowler because injury is his close friend. So, staying fit is not a choice for us, but a compulsion."