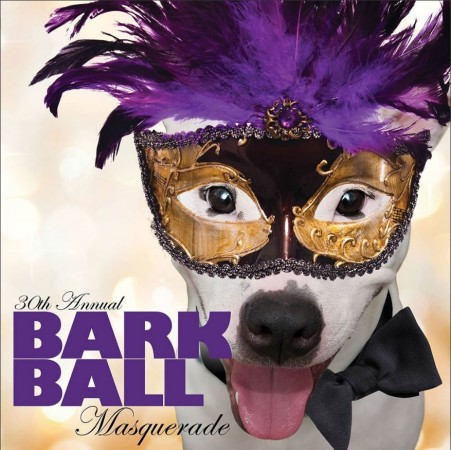 American author Dean Koontz once said: "Once you have had a wonderful dog, a life without one, is a life diminished," and we agree with every word of it. While every human goes through highs and lows in life – professional and personal – dogs with warm cuddles and sloppy licks are always there to make things a little better. So if you are having some Monday morning blues today, we have the perfect solution to it – the Bark Ball.
The Washington Humane Rescue Alliance organised the Bark Ball, the annual masquerade ball for dogs, on June 17 at the Washington Hilton, and the images trickling in are adorable enough to lift any dog lover's spirits. The black-tie gala, which benefits the Humane Rescue Alliance, saw many guests brings their pets along and boy that was some fashion parade!
While the gala saw the who's who of Washington, they were evidently outshined by the four-legged canines dressed in some fancy ties and bows, reported the Huffington Post. Not just that, there were some dapper attendees in their finest coats, tulle skirts and yes, even pearls. And what stole our hearts was this adorable white pooch that strutted some fabulous stuff with a red eye-mask with feathers.
While a few canines garnered a lot of attention of the attendees and got tonnes of treats and belly rubs, there seemed to be a few others who preferred to maintain some decorum and solemnly sat at the table with other attendees. Trust us, it's the most adorable thing to watch!
Meanwhile, the Humane Rescue Alliance that runs pet adoption centres and advocates for animal rights raised $700,000 from the gala.
Take a look at some heart-warming four-legged attendees, who seemed to be having the time of their lives. We promise you'll forget all about those Monday blues.
— Humane Rescue (@HumaneRescue) June 18, 2017
Enjoying @HumaneRescue #BarkBall with @atlasvetDC supporters, @charlesallen, & pet lovers from across the district! pic.twitter.com/LKGPimxUWP — Ford Lincoln Mercury (@kiltedvet) June 18, 2017
Adoptable Nunu soaked up all the attention she got from amazing volunteer Kerri at the 30th Annual #BarkBall pic.twitter.com/vLUUdIA0iK

— Humane Rescue (@HumaneRescue) June 18, 2017
Anyone can bid, anyone can win! Bidding for the #BarkBall online auction closes TONIGHT at 8:00PM. https://t.co/2VtQMmvJ3Q pic.twitter.com/5Ud8NCdjrK — Humane Rescue (@HumaneRescue) June 17, 2017
The 30th Annual #BarkBall is under way! Help us surpass our fundraising goal and bid on our online auction: https://t.co/2VtQMmvJ3Q pic.twitter.com/PGVjAKv7mC

— Humane Rescue (@HumaneRescue) June 17, 2017
Winston and Erin attended the #BarkBall pic.twitter.com/jK8igktxG6 — Debra Arthur, CFP® (@DebraArthur) June 18, 2017
I had two dates in one night! #BarkBall #SullytheBully #Oscar #Winning pic.twitter.com/Pb1CdyHkoc

— Tessa Gould (@Tessa_Gould) June 18, 2017
Winston having dinner at the Washington Hilton. #BarkBall pic.twitter.com/B9n63ZcMpH — Debra Arthur, CFP® (@DebraArthur) June 18, 2017
Every ball should be a #Barkball. pic.twitter.com/CkC2weGpqU

— Albert Lang (@AlbertLeRoi) June 18, 2017
Last time I was here was for White House Correspondents Dinner. So far the @HumaneRescue #BarkBall is much more civil pic.twitter.com/9CFYfkLRRI — Mike Levine (@MLevineReports) June 17, 2017