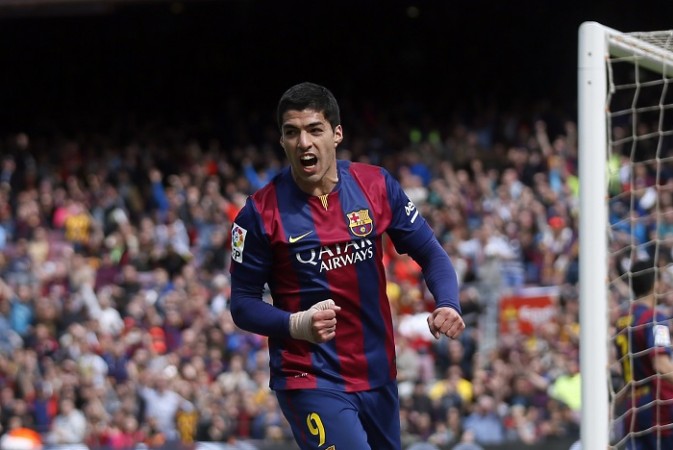 Uruguayan striker Luis Suarez claims that he left Liverpool for Barcelona in order to get a chance win the Champions League.
The 28-year-old was in scintillating form last season as he nearly helped the Reds secure the Premier League title for the first time since 1990 by scoring 31 goals in 32 Premier League appearances.
However, Suarez, who was involved in a lot of controversy during his time at Anfield, ended his three-and-a-half year association with Liverpool as he completed a £75 million switch to Barcelona last summer.
Earlier, Suarez had indicated that the British media had forced him to leave Liverpool, but he now claims that the real reason behind him leaving Liverpool to join Barcelona was to win the Champions League.
"Barcelona are always a candidate to win the Champions League," Suarez told Spanish newspaper AS ahead of his side's Champions League first leg quarter-final clash against Paris Saint Germain.
"That's a plus here, as the clubs I've played for before didn't really have the chance to win big [European] trophies – maybe a domestic league or cup."
Suarez, who only managed to win one trophy [League Cup in 2011/12] during his three year stint at Liverpool, feels that he has more chance of winning silverware with Barcelona than he ever did with the Reds.
"Playing in a team like this, where all the players want to win every match and everything, that is a sign that it's all about silverware – whether it's the Champions League, the Liga or whichever trophy's available. We have a chance of making the final."
Although Suarez is no longer a star player like he was in Liverpool, and he now has to play under the shadow of Neymar and Lionel Messi, he insists that he has no problems with his current role at Barcelona.
"It is about adapting to the way they play and the moves they make, and trying to make things easier for them," added the former Ajax man.
"They are incredible players but you work to support the team regardless of who is playing that day. Everybody feels comfortable in their role of helping Messi and Neymar play their best game."