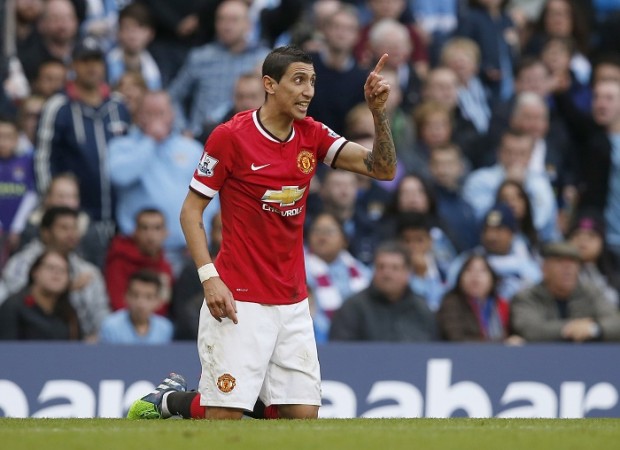 Spanish heavyweight Barcelona have shown serious interest for Manchester United's Argentine winger Angel Di Maria, and the Catalan side are planning to snap up the player this summer, according to Catalan daily Sport.
It was a dream of a debut season for Barca manager Luis Enrique, as he led the club to bag La Liga, Copa del Rey and the UEFA Champions League. However, Enrique has made it clear that he is not willing to overlook the nitty gritties that are still affecting his side.
The Spanish gaffer has turned his attention to the transfer market this summer to cover those shortcomings.
It has been learnt that Enrique is looking to add a player who has a lot of pace and can easily penetrate in the attacking third and decimate opposing defenders. Di Maria suits for more than one reason, as the Argentine has the abilty to provide lethal balls to the forwards and a certain Lionel Messi or Neymar can have a more free role upfront.
However, no credible offer has been put on the table for the 27-year-old who arrived at Old Trafford last summer on a British record transfer fee of £59.7m. But again, Barca have made it very much clear that Di Maria is on their shortlist.
The move to Old Trafford might have been lucrative, but Di Maria didn't seem to have settled properly in England, and in his own words, it had been a tough season for him.
"It was a hard season for me. I think it was hard because it was another country and another league, and this league is harder than the Spanish one. So, I couldn't adapt myself as I wanted to," he was quoted as saying by English daily Independent.
It is believed that once the Copa America 2015 ends, Barca could be offering a mouthwatering deal for the Argentine, in the region of £60m.
Di Maria hasn't been too bad in the 2014-15 season with the Red Devils, as he provided as many as 12 assists from 32 games and also scored on four occasions.
It is to be seen whether the former UEFA Champions League winner with Real Madrid prefers to go back to the Spanish league or is willing to stay at Old Trafford and be a part of Louis van Gaal's plans.
And it seems his heart probably lies in Manchester, as he seems keen on seeing out his contract at the Theatre of Dreams, which runs until June 2019.
"Now I will play the Copa America and then I will move back to Manchester for next season and do my best there," Di Maria said.