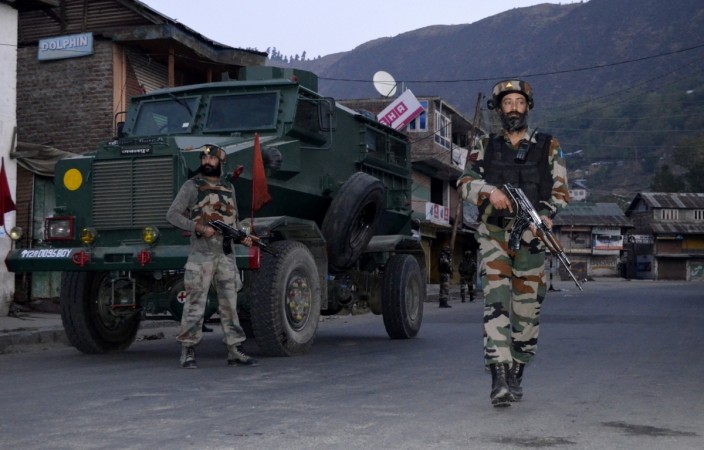 Indian cricket veteran Virender Sehwag has saluted the Indian Army for their swift action on Sunday night at Baramulla in Northern Kashmir. An almost two-hour gun encounter took place between the country's armed forces and terrorists, who had attacked a Rashtriya Rifles army camp in the wee hours of Gandhi Jayanti 2016.
At least two terrorists and an Indian soldier -- BSFjawan Constable Nitin were killed, while another soldier -- Constable Pulwinder -- was injured, in the fierce gun-battle. Both of them belonged to the 40th battalion of the BSF [Border Security Force].
"Time and again, Indian army proves that they stay awake & fight for us to sleep peacefully. Salute to the Martyr," wrote Sehwag on twitter. The 37-year-old swashbuckling cricketer had earlier also condemned the Uri attack by Pakistan-based militant group Jaishe-e-Mohammad last month.
Ace Indian sport shooter Heena Sidhu has also spoken about the recent incidents happening on the LoC (Line of Control). "We live in difficult times. Don't know how it will end. Nobody wants war but this isn't what peace feels like. Pray for a better tomorrow," the 27-year-old Ludhiana girl tweeted.
Following the Uri attack on September 18, which resulted in the killing of 19 Indian Army personnel, the Indian Army then conducted surgical strikes against terror launch pads across the Line of Control (LoC) on September 29, killing 38 terrorists and two Pakistani soldiers.
The terror attack also resulted in five nations — Afghanistan, Bangladesh, Sri Lanka, Bhutan and India — announcing on Saturday that they were not attending Pakistan Saarc 2016 summit, which was scheduled to take place in Islamabad in November.