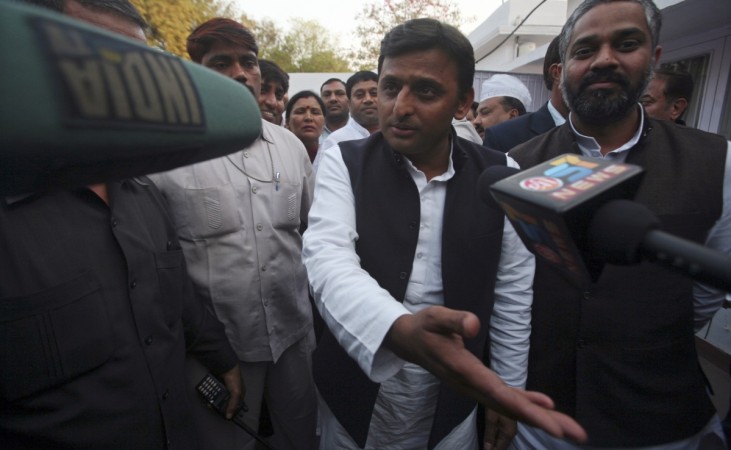 Uttar Pradesh Chief Minister Akhilesh Yadav ordered a magisterial probe after a woman, who was allegedly set ablaze by two policemen recently at a police station in Uttar Pradesh's Barabanki district, died on Tuesday morning.
"A magisterial inquiry has been ordered and stern action will be taken against those found guilty in the report," PTI quoted Yadav as saying.
The woman, identified as 40-year-old Nitu Dwivedi, was undergoing treatment at a hospital in Lucknow for her burn injuries. She had given a statement to a magistrate before succumbing to her injuries on Tuesday, 7 July.
In the statement, Nitu has accused Kothi police station in-charge Ram Saheb Singh Yadav and sub-inspector Akhilesh Rai of setting her on fire after she resisted their rape attempt at the police station.
The duo had also allegedly asked Nitu to pay a bribe of ₹1 lakh for letting her husband Ram Narain free. They had detained her husband on 4 July in connection with a firing incident at Gaha village.
Acting on the order of Inspector General of Police (Lucknow) Zaki Ahmad, Barabanki Superintendent of Police (SP) Abdul Hamid suspended both Ram Saheb and Akhilesh Rai. Both the policemen have been booked under various Sections of the IPC.
Although Nitu and her son, a journalist with a local Hindi daily, accused the two policemen of misbehaving with her and demanding a bribe, the police maintain that she had committed suicide.
The police claimed that Nitu poured petrol and set herself on fire at the gate of police station after they refused to release her husband.
She was then rushed to a district hospital from where she was shifted to Trauma Centre in Lucknow, where she died while undergoing treatment.
Narain, her husband, who was detained by the two policemen, claimed that he was implicated in a false case of murder.
"The police took me away and said a murder case had been lodged against me. They told my wife to get money and pick me up. I don't know how much they wanted. I was sitting outside when she ran out, engulfed in fire. I and some others tried to save her. These people must have set her on fire. Who else could have done it," asked Narain.
(With IANS inputs)