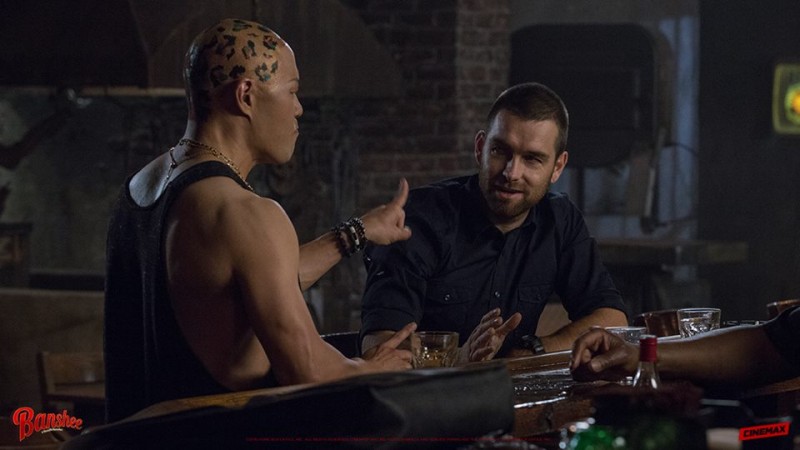 It seems that Season 4 of Cinemax's action television series "Banshee" will have a bloody ending as according to several rumours, the protagonist of the series, Lucas Hood (Antony Starr), might get killed by the crime lord Proctor (Ulrich Thomsen).
As we previously reported, the expert burglar and ex-conman might end up dead in the upcoming instalment. The previous seasons of "Banshee" are known for having unexpected and shocking endings that left the viewers mesmerised. Hence, there is a significant possibility that the next season will also continue to carry this trait, which means that Lucas might die in it.
In the last season, Lucas took the identity of sheriff. However, from the look of the fourth season's trailer, it seems that he will soon succumb to a deadly attack by Proctor. In the teaser, Lucas can be seen standing in front of a burning house that was set on fire by Proctor to kill him. However, with sheer luck, Lucas managed to escape the house.
Proctor has been after Lucas and his gang for quite a long time as he believes that it was Lucas and his men because of whom Proctor had to spend so much time in the prison for a crime that he didn't even commit in the first place. However, whether he will succeed in taking his revenge or not, will be seen only once "Banshee" Season 4 airs.
The fourth season of "Banshee" is scheduled to premiere April 1, 2016 on Cinemax.
In other news, Eliza Dushku has also joined the cast of "Banshee" as seen in the promo. She will be playing the role of FBI Agent Veronica Dawson. Besides her, other new cast members include Ana Ayora as Nina Cruz and Casey LaBow as Maggie, the wife of local Aryan Brotherhood leader.