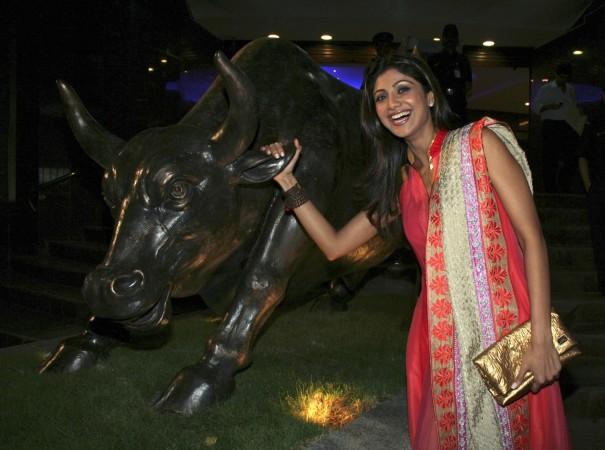 Equity benchmark indices rose to new highs on Tuesday in late trade tracking Asian and European stock markets; the BSE Sensex hit a new 52-week high of 28,478 before closing at 28.343, a gain of 1.58 percent. The NSE Nifty ended 137 points, or 1.59 percent, higher at 8,744.
The 30-scrip Sensex rally was led by Asian Paints, Bajaj Auto, Maruti Suzuki, GAIL(India) and HDFC Bank that gained in the range of 3.20 to 2.35 percent. On the NSE, the 50-scrip Nifty was led by Ambuja Cement, Bosch, ACC, Grasim and Eicher Motors.
The rally in Asian and European equities was attributed to receding hopes of an interest rate hike by the US Federal Reserve next month, a fear that had spiked European stocks on Monday.
"European stocks on Monday finished in negative territory, kicking off week lower as rising expectations the U.S. Fed will lift interest rates later this year poked the air out of a recent rally," brokerage Angel Broking had said in its pre-opening note on Tuesday.
Earlier in the day, shares of banks and automobile manufacturers were trading with gains on the stock markets, driving equity benchmark indices up after Monday's lacklustre session. PSU stocks also gained notwithstanding the imminent nationwide strike on September 2 called by trade unions.
The BSE Bankex was up 1.05 per cent, while the BSE Auto was trading 1.28 points higher. The BSE Sensex gained over 230 points in early morning session, but later pared gains to trade at 28,102, up 200 points, or 0.72 per cent, at around 11.50 a.m. The BSE PSU index was at 7,459, a gain of 34 points, or 0.46 per cent.
Maruti Suzuki shares were up 2.79 per cent at Rs. 5,067.15 apiece, while Bajaj Auto was trading at Rs. 2,964.60, a gain of 2.78 per cent. HDFC Bank was up 1.49 percent at Rs. 1,256.80 and ICICI Bank shares rose 1.48 per cent to trade at Rs. 254.10 apiece.
The State Bank of India stock was marginally up at Rs. 150.80. Infosys shares were trading with minor losses, while Wipro gained 0.88 per cent after dipping to new 52-week lows on Monday and last Friday. Shares of Zicom zoomed 18.60 per cent and were trading at Rs. 47.75.
Among public sector undertakings (PSUs), GMDC was the biggest gainer at 7.34 per cent, followed by Hindustan Copper (3.2 per cent) and GAIL (India), whose shares were up 2.10 per cent.
PSU workers, including employees of state-run banks will be going on a day-long strike on September 2 to demand minimum monthly salary of Rs. 18,000, in line with the recommendations of the 7th Central Pay Commission for Central government employees and pensioners. Besides, they also want an end to what they call "anti-labour" reforms of the Modi government.
The rupee opened slightly higher at 67.13 to the US dollar on Tuesday.
Story updated at 4.45 p.m. with additional information.