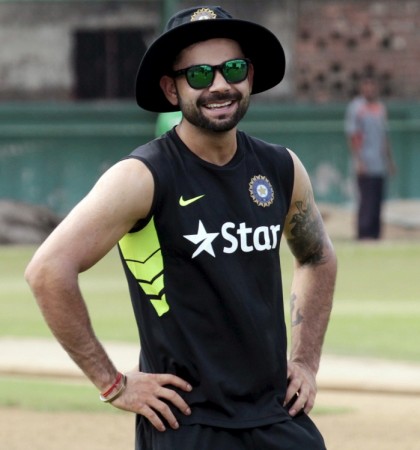 India are, in a way, embarking on a new era of Test cricket, after being baked and caked for quite a while in overseas series' in the recent past. The result of the losses that racked up in Australia, England, New Zealand and South Africa was the retirement of India's "Captain Cool" MS Dhoni, which means Virat Kohli now has the chance to stamp his fingerprint on the side and write his own history.
Dhoni is, of course, a tough act to follow, but Kohli has shown the capabilities of being an able leader, and while a Test match against Bangladesh is not exactly the yardstick that will be used to judge just how good the India batting star can be, it will be a good beginning.
Kohli showed his win-at-all-costs attitude during a brief captaincy spell in Australia, and that is as good a place to start from as there is. Go for wins in Test matches, you will put yourself in the best possible positions to win, something that Dhoni, the Test captain, has been accused of not doing often enough.
"We have learnt a lot but I don't think we have to keep playing with the mindset of 'We have to keep learning all the time'. I think it's time -- we have played enough Tests so that we start executing our skills and getting results our way and have the vision and the focus to win Test matches, not just go out there with the mindset of learning with every game," Kohli said.
"We have been playing for long enough now. Unless we want to have a vision of winning Test matches, executing our skills against the best in the world, we are falling short of the goals that we want to achieve.
"We know what we want to achieve as a unit, it's just the mental thing that has to be right. We have learnt in the past few Test matches and months but starting now, we want to start achieving the results that we really want, not go away from every Test match thinking about what we have learnt from it."
In a way Kohli is lucky in the fact that most Tests India will play in the next couple of years will be at home, or in sub-continental conditions, like the one against Bangladesh starting on Wednesday in Fatullah.
Kohli brings that sense of aggressiveness to the side, an almost Aussie-feel, and if there is any side that teams can emulate from the recent past it certainly is the Aussie vintage from the late 1990s and early noughties.
Also, watching Brendon McCullum stamp his mark on the current New Zealand side, where it is aggression and a win-first mentality before anything else, India certainly have the tools to swing that way. Such was the aggressive mentality of New Zealand, that they even forced England to play in a similar manner, and that can only be good for Test cricket in general.
Losses, while going for the win is always more acceptable, than when playing it safe.
How much fun was it to watch India, led by Kohli, nearly pull off a stunning win in that Adelaide Test match against Australia. Yes, India lost in the end; yes India might have been better off putting that word circumspect to better use. But, it just wouldn't have been quite as good a spectacle, would it?
That is what Kohli the Test captain will hopefully bring, and should look to bring -- exciting performances from the entire unit, where the only mantra is "go for the win."