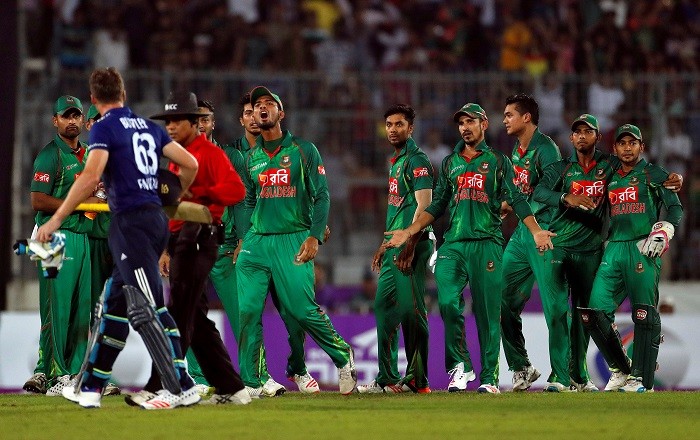 Bangladesh captain Mashrafe Mortaza led from the front with bat and ball while England's skipper Jos Buttler lost his cool when the going got really tough as the two teams put on another brilliant one-day international show in Dhaka on Sunday.
Needing a win to stay alive in the three-match series, after gifting England victory in the first match, Bangladesh were in deep trouble in the 2nd ODI, after the visitors cut them down to 115/5. However, Mahmudullah's half-century and some great hitting from Mortaza allowed Bangladesh to post 238/8 on the board in their 50 overs, a decent, maybe-it-can-even-be-defended score.
The manner in which England had batted in the first one-day international, that looked unlikely, but Mortaza had other plans. The Bangladesh captain picked up the wickets of James Vince, Jason Roy and Ben Stokes early, with Shakib Al Hasan chipping in with a scalp as well, to leave England on 26/4.
Jonny Bairstow and Jos Buttler produced a bit of a recovery with a 79-run partnership, to raise hopes of an England victory. However, Bangladesh would not be denied as the wickets of Bairstow, Moeen Ali and Buttler in relatively quick time ended all hopes of the visitors sealing the series with one match to spare. England were eventually bowled out for 204 in 44.4 overs.
The controversy in the match came when Buttler was dismissed lbw by Taskin Ahmed in the first ball of the 28th over, with Bangladesh's over-exuberant celebrations not going down well with the England captain and his non-striker at the time – Chris Woakes. There was a bit of a confrontation and some words exchanged, and Buttler believes the manner in which his wicket was celebrated by the home side was avoidable.
"I was just a little bit disappointed in the fashion they celebrated," Buttler said. "Rightly they are happy to get a wicket but there is no need to run in someone's face and celebrate. I'm disappointed to get out, the emotions were high but that happens."
Buttler, though, also admitted it might have been better not to react. "Maybe in hindsight I could just walk away, but it is what it is," the wicketkeeper-batsman added.
Mortaza, the undisputed man of the match, played down the problem. "I don't know who spoke to Buttler," Mortaza, who scored 44 in 29 balls and picked up four wickets, said. "I was focusing on the review that I took and then I got excited by the decision.
"Sometimes a lot of things happen in the heat of the moment. But players from both sides should control themselves."
The last match of the series will be played on Wednesday in Chittagong.