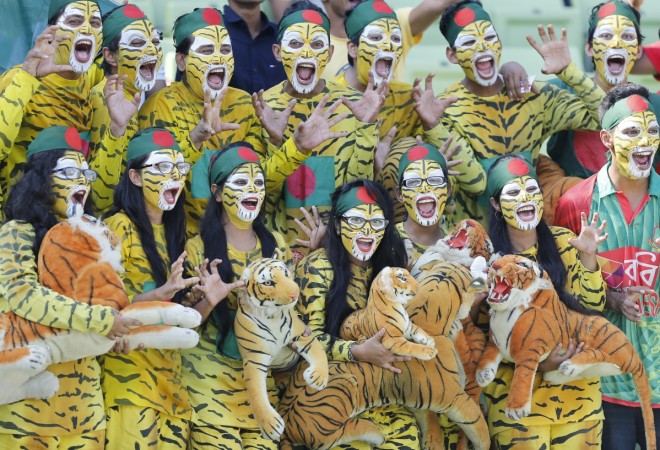 The rain gods tried their best to stop the Bangladesh Premier League 2016 (BPL 2016), scheduled to start last Friday. While the toss was done for the first game of the tournament between Comilla Victorians and Rajshahi Kings, not a single bowl was bowled. This continued for the next four games as well.
The depression over the Bay of Bengal bringing non-seasonal rainfall all over Bangladesh has really come as a worry for the Bangladesh Cricket Board (BCB). To postpone the matches or cancel the tournament as a whole remained the big question. Fortunately, the BPL Governing Council stuck to the former proposal and decided to reschedule the fixtures. It starts again on Tuesday.
According to BPL member secretary Ismail Haider Mallick, the four matches, scheduled to take place on November 5 and 6, will take place on the rest days scheduled for the tournament in the original fixtures. However, this will happen only if the franchises unanimously agree to play those matches or be content on sharing a point each, as per the rules.
Mallick has told ESPN Cricinfo that while Rangpur Riders and Khulna Titans have agreed on playing their rematch, Comilla Victorians and Rajshahi Kings are undecided whether to play their revised fixture.
"According to the bylaws, we can make the November 4 matches into rematches only if the franchises agree to it. Rangpur and Khulna have agreed for the rematch but we don't have a decision from Comilla and Rajshahi, who were the teams in the tournament's first match," said Mallick.
"We will try to reassign the five or six matches on November 10 and 14 and, if need be, we will hold three matches in a day. November 20 is also an option for the rescheduled matches," he added.
As for now, except for that fixture, the other three fixtures are rescheduled in the latest list of matches revealed by the Bangladesh Premier League organising committee.
| | | | | |
| --- | --- | --- | --- | --- |
| Match no. | Date | Time | Fixture | Venue |
| 1 | 8 November | 2 pm local time | Comilla Victorians v Chittagong Vikings | Shere Bangla National Stadium, Mirpur |
| 2 | 8 November | 7 pm local time | Barisal Bulls v Dhaka Dynamites | Shere Bangla National Stadium, Mirpur |
| 3 | 9 November | 2 pm local time | Khulna Titans v Rajshahi Kings | Shere Bangla National Stadium, Mirpur |
| 4 | 9 November | 7 pm local time | Rangpur Riders v Chittagong Vikings | Shere Bangla National Stadium, Mirpur |
| 5 | 10 November | 7pm local time | Rangpur Riders v Khulna Titans | Shere Bangla National Stadium, Mirpur |
| 6 | 11 November | 2:30 pm local time | Comilla Victorians v Barisal Bulls | Shere Bangla National Stadium, Mirpur |
| 7 | 11 November | 7:15pm local time | Dhaka Dynamites v Rajshahi Kings | Shere Bangla National Stadium, Mirpur |
| 8 | 12 November | 2 pm local time | Chittagong Vikings v Khulna Titans | Shere Bangla National Stadium, Mirpur |
| 9 | 12 November | 7 pm local time | Rangpur Riders v Dhaka Dynamites | Shere Bangla National Stadium, Mirpur |
| 10 | 13 November | 2 pm local time | Barisal Bulls v Rajshahi Kings | Shere Bangla National Stadium, Mirpur |
| 11 | 13 November | 7pm local time | Comilla Victorians v Khulna Titans | Shere Bangla National Stadium, Mirpur |
| 12 | 14 November | 2 pm local time | Barisal Bulls v Chittagong Vikings | Shere Bangla National Stadium, Mirpur |
| 13 | 14 November | 7pm local time | Comilla Victorians v Dhaka Dynamites | Shere Bangla National Stadium, Mirpur |
| 14 | 17 November | 2 pm local time | Dhaka Dynamites v Chittagong Vikings | Zahur Ahmed Chowdhury Stadium, Chittagong |
| 15 | 17 November | 7pm local time | Rangpur Riders Vs Barisal Bulls | Zahur Ahmed Chowdhury Stadium, Chittagong |
| 16 | 18 November | 2:30 pm local time | Chittagong Vikings vs Rajshahi Kings | Zahur Ahmed Chowdhury Stadium, Chittagong |
| 17 | 18 November | 7:15 PM local time | Comilla Victorians vs Rangpur Riders | Zahur Ahmed Chowdhury Stadium, Chittagong |
| 18 | 19 November | 2 pm local time | Dhaka Dynamites v Khulna Titans | Zahur Ahmed Chowdhury Stadium, Chittagong |
| 19 | 19 November | 7pm local time | Comilla Victorians v Rajshahi Kings | Zahur Ahmed Chowdhury Stadium, Chittagong |
| 20 | 20 November | 7 pm local time | Barisal Bulls vs Khulna Titans | Zahur Ahmed Chowdhury Stadium, Chittagong |
| 21 | 21 November | 2 pm local time | Dhaka Dynamites v Rajshahi Kings | Zahur Ahmed Chowdhury Stadium, Chittagong |
| 22 | 21 November | 7pm local time | Comilla Victorians v Chittagong Vikings | Zahur Ahmed Chowdhury Stadium, Chittagong |
| 23 | 22 November | 2 pm local time | Rangpur Riders v Khulna Titans | Zahur Ahmed Chowdhury Stadium, Chittagong |
| 24 | 22 November | 7pm local time | Barisal Bulls v Chittagong Vikings | Zahur Ahmed Chowdhury Stadium, Chittagong |
| 25 | 25 November | 2:30 pm local time | Rangpur Riders v Rajshahi Kings | Shere Bangla National Stadium, Mirpur |
| 26 | 25 November | 7:15 pm local time | Barisal Bulls v Khulna Titans | Shere Bangla National Stadium, Mirpur |
| 27 | 26 November | 2 pm local time | Comilla Victorians v Dhaka Dynamites | Shere Bangla National Stadium, Mirpur |
| 28 | 26 November | 7pm local time | Khulna Titans v Rajshahi Kings | Shere Bangla National Stadium, Mirpur |
| 29 | 27 November | 2 pm local time | Barisal Bulls v Dhaka Dynamites | Shere Bangla National Stadium, Mirpur |
| 30 | 27 November | 7pm local time | Rangpur Riders v Chittagong Vikings | Shere Bangla National Stadium, Mirpur |
| 31 | 28 November | 7 pm local time | Rangpur Riders v Rajshahi Kings | Shere Bangla National Stadium, Mirpur |
| 32 | 29 November | 2 pm local time | Comilla Victorians v Barisal Bulls | Shere Bangla National Stadium, Mirpur |
| 33 | 29 November | 7pm local time | Chittagong Vikings v Khulna Titans | Shere Bangla National Stadium, Mirpur |
| 34 | 30 November | 2 pm local time | Rangpur Riders v Dhaka Dynamites | Shere Bangla National Stadium, Mirpur |
| 35 | 30 November | 7pm local time | Barisal Bulls v Rajshahi Kings | Shere Bangla National Stadium, Mirpur |
| 36 | 2 December | 2:30 pm local time | Rangpur Riders v Barisal Bulls | Shere Bangla National Stadium, Mirpur |
| 37 | 2 December | 7:15 pm local time | Dhaka Dynamites v Chittagong Vikings | Shere Bangla National Stadium, Mirpur |
| 38 | 3 December | 2 pm local time | Comilla Victorians v Khulna Titans | Shere Bangla National Stadium, Mirpur |
| 39 | 3 December | 7 pm local time | Chittagong Vikings v Rajshahi Kings | Shere Bangla National Stadium, Mirpur |
| 40 | 4 December | 2 pm local time | Comilla Victorians v Rangpur Riders | Shere Bangla National Stadium, Mirpur |
| 41 | 4 December | 7pm local time | Dhaka Dynamites v Khulna Titans | Shere Bangla National Stadium, Mirpur |
| 42 | 6 December | 2 pm local time | Eliminator (3rd vs 4th) | Shere Bangla National Stadium, Mirpur |
| 43 | 6 December | 7pm local time | 1st Qualifier | Shere Bangla National Stadium, Mirpur |
| 44 | 7 December | 7pm local time | 2nd Qualifier | Shere Bangla National Stadium, Mirpur |
| 45 | 9 December | 7pm local time | Final | Shere Bangla National Stadium, Mirpur |
Unannounced fixture date: Comilla Victorians v Rajshahi Kings