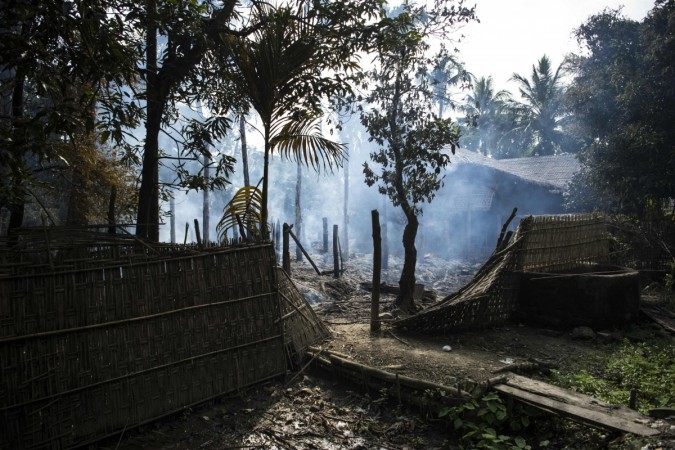 Social media may be an entertaining place with tons of images to look through and thousands of pieces to read, but it comes with its own set of drawbacks, some so serious that it could lead to deaths. In a heart-rending incident, a Hindu village in Bangladesh was burned down by a mob of Muslims on Friday, November 10, after rumours spread that a local had insulted Prophet Mohammed on Facebook.
One person was killed and about five others were injured after 20,000 Muslims attacked Hindu homes in Thakurbari village, about 300 kilometres away from Dhaka. The angry mob also set fire to about 30 Hindu houses in the village and looted and vandalised numerous other residences, reported the Dhaka Tribune.
The mob comprised residents of surrounding villages including Mominpur, Paglapeer, and Horialkuthi and they also clashed with the police, when the latter tried to control the situation. Later, the police resorted to firing rubber bullets and tear gas.
While the police managed to bring the violence under control, the angry mob lashed out at the police for its response to the incident and blocked the Rangpur-Dinajpur highway in protest. Kotwali police station Officer-in-Charge Moktarul Islam said that as the tension hadn't completely died down, a large number of police personnel had been deployed in the area, in case of an emergency.
The district administration is also investigating the incident and has promised to help the residents of the Hindu village. Meanwhile, External Affair Minister Sushma Swaraj took up the matter with Bangladesh, which in turn has also assured India that the villagers would be provided with assistance as well as compensation. Dhaka has also said that it would help the villagers to rebuild their houses, which were torched during the violence.
"We have received a detailed report of Indian high commission in Dhaka. Bangladesh authorities have assured him that compensation will be paid to affected persons to rebuild their houses and adequate security will be provided," she tweeted.
We have received a detailed report of Indian High Commission in Dhaka. Bangladesh authorities have assured him that compensation will be paid to affected persons to rebuild their houses and adequate security will be provided. https://t.co/GTlH7FTTga

— Sushma Swaraj (@SushmaSwaraj) November 12, 2017