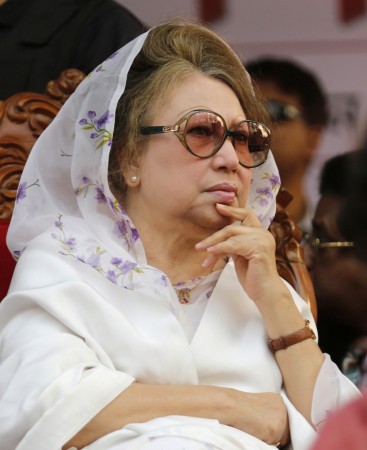 The anti-government protests raging in Bangladesh claimed seven more victims on Tuesday, after protesters hurled petrol bombs at a bus, in which passengers were asleep, killing seven and injuring several others critically.
Protests heralded by Opposition leader Khaleda Zia have turned deadly over the last month, killing at least 53 people, and injuring hundreds of others.
The bus came under attack in the town of Chuddogram in the early hours of Tuesday, killing unsuspecting passengers and leaving at least five battling for life with 40-80% burns.
"Seven passengers were burnt to death in the bus after the petrol bomb was thrown at 4am (2000 GMT Monday)," district police chief Tuttul Chakrabarty told AFP.
"Five of the passengers are fighting for their life as 40-80 percent of their bodies were burnt. They have been shifted to a hospital in the capital."
Firebombings on vehicles has become a common form of arson since Zia called for protests and nationwide blockade of roads and railways as she builds pressure on Prime Minister Sheikh Hasina to announce a fresh general election.
The Opposition had boycotted the January 2014 polls claiming that they were rigged.
More than 800 vehicles have been firebombed as protests grew violent last month, though Zia claims that neither her Bangladesh Nationalist Party (BNP) or its Islamist allies had called for such violence.