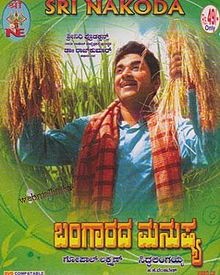 Ace Kannada filmmaker Siddalingaiah, who had directed evergreen classics such as "Bangarada Manushya", "Bhootayyana Maga Ayyu" and others, died at a private hospital in Bengaluru on 12 March.
Siddalingaiah was diagnosed with H1N1. The 78-year-old director was recently admitted to Suguna hospital in Rajajinagar, where he was undergoing treatment in intensive care unit. He breathed his last on Thursday. He is survived by his wife and daughter-in-law and grandchildren.
Siddalingaiah started his career as a spot boy at Navajyothi studios at a very early age. Later, he worked as an assistant to directors Shanker Singh and B Vittalacharya. During that period, he learnt Tamil and Telugu. He made his debut as director with the 1969-film "Mayor Muthanna" starring legendary actor late Dr Rajkumar and Bharathi Vishnuvardhan.
Produced by Dwarkish, "Mayor Muthanna" became big hit at the box office. After that, there was no look back for this talented filmmaker, who directed 23 evergreen films. "Bangarada Manushya" ran to packed houses for over two years, making his directorial venture a new landmark in Kannada cinema.
He was another the best directors in Sandalwood, after late Puttanna Kanagal. He had worked with Rajkumar, Vishnuvardhan, Rajinikanth, Ananth Nag, Lokesh, MP Shankar, Shashikumar, Jayanthi, Bharathi, B Saroja Devi and Aarathi. H churned out many hit films with Rajkumar. Most of his films were based on social issues and made a distinct impact on the audience.
His son Murali made his acting debut in Kannada film "Prema Parva" in 1984. He forayed into Tamil through "Poovilangu". He starred in over 50 Tamil movies. He died of heart attack in 2010. His sad demise took a toll on the health of Siddalingaiah, who retired from direction after "Prema Prema Prema". His grandson Adharvaa also made his acting debut in Tamil in 2012.
Siddalingaiah was honoured with Puttanna Kanagal award and Saroja Devi award, among others, for his outstanding contribution to Kannada films. It was reported that the Karnataka State Open University had announced honorary doctorates to him, days before he was hospitalised.
Siddalingaiah was a role model for many directors in Sandalwood and his sudden death has shocked many Kannada stars and fans.
Ace director Siddalingaiah passes away http://t.co/IwXgBGi5HL #RIP #Siddalingaiah pic.twitter.com/J7hBeKN61W

— Sandesh Mysore (@SandeshMysore7) March 12, 2015