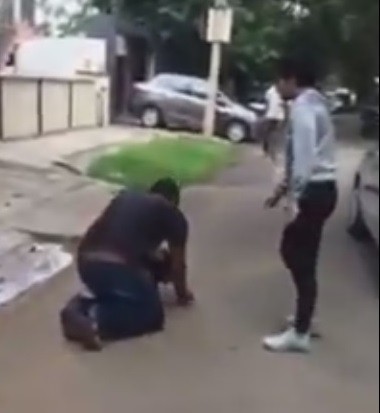 A molester in Bangalore learned a lesson of his life on Friday when the woman he harassed while she was jogging in a park chased him, hit him and complained to the police who soon arrested him.
Veena Ashiya Chindlur, a resident of Bangalore's Jayanagar area, was on a jog in a park on Friday morning when the man began to sexually harass her, making noises and eve-teasing her. Instead of ignoring the molester, Chindlur chased after him and hit him, while her friend recorded the scene on her mobile phone.
While the man ran away, Chindlur filed a complaint with the police, and with the snapshots recorded on her friend's phone, the police were able to nab the molester in under an hour.
Chindlur also posted the video on social media, which has already been shared on Facebook more than 3,000 times.
In her Facebook Post, in which she also shared the video, Chindlur wrote -
In a sign of increasing public apathy, Chindlur claims that nobody came to her aid as she waited next to a bike for the molester to return that she suspected was his. "Nobody came to help me and as I was standing in the park, I spotted a policeman. I narrated the incident to him and he immediately called the patrolling vehicle," she told Bangalore Mirror.
The accused was identified as KR Suryaprakash, 30, a resident of Banashankari III Stage and the police registered a case against him under IPC section 354 (A), which deals with outraging the modesty of a woman, and section 509, which deals with insult to the modesty of a woman through any sounds or gestures. The accused has been let off on bail.
The incident reveals the increasing spate of crimes against women in the city, coming weeks after national outrage and protests over the alleged rape of a six-year-old in a Bangalore school.