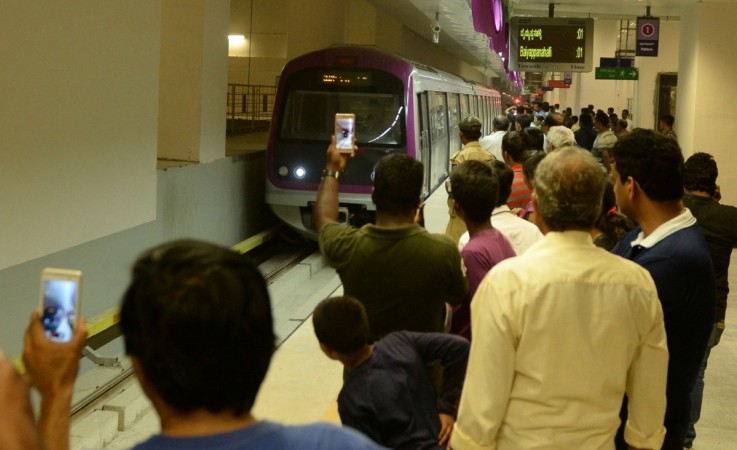 Delhi Metro, which reached a milestone of 1 billion in cumulative ridership in 2016-17, forayed into housing segment, probably a first for any metro service in the world. It will construct 550 2BHK and 3BHK flats at Janakpuri and Okhla. Will Bangalore Metro take a cue?
Delhi Metro Rail Corporation (DMRC) expects to complete the construction of flats by May 2019, The flats, estimated to cost around Rs 60 lakh (2BHK) and Rs 1.20 crore (3BHK), will be offered via lucky draw to be held next month, according to the Indian Express.
The housing scheme is part of the plan to monetise large land parcels at the disposal of the DMRC and it also intends to build a business complex near Jantar Mantar.
Now, the question that arises is: Will Bangalore Metro look to tap the potential housing sector in India's "Silicon Valley"?
Last year, the Bangalore Metro Rail Corporation Ltd. (BMRCL) had invited bids from real estate firms as part of its plans to monetise around 30 acres of land in its possession around various Metro stations in the city.
Meanwhile, BMRCL, which currently has 50 three-coach trains, will have 150 more by the end of December 2019. The trains, to be manufactured and delivered by state-owned BEML (Bharat Earth Movers Ltd.) at a cost of Rs 1,421 crore, will be done in a staggered manner, starting from June next year.
BMRCL currently runs two services in Phase I — a purple line from Baiyappanahalli to Mysore Road and a green line, which was scheduled to be fully operational from this month, from Nagasandra (north Bengaluru) to Puttanahalli (south Bengaluru). Within green line, the operational part is Nagasandra up to Sampige Road.
The total distance covered by Phase I is 42.3 km.
Phase II, stretching 72.1 km, will link the purple and green lines with the city's peripherals with 61 stations, of which 12 will be underground. The deadline for the completion of Phase II is 2020. The project cost for this phase is Rs 26,405 crore.
For the year ended March 2016, BMRCL's gross revenues rose to Rs 54.24 crore from Rs 42.97 crore in the preceding fiscal while net loss widended to Rs 360.98 crore from Rs 263.26 crore in 2014-15.