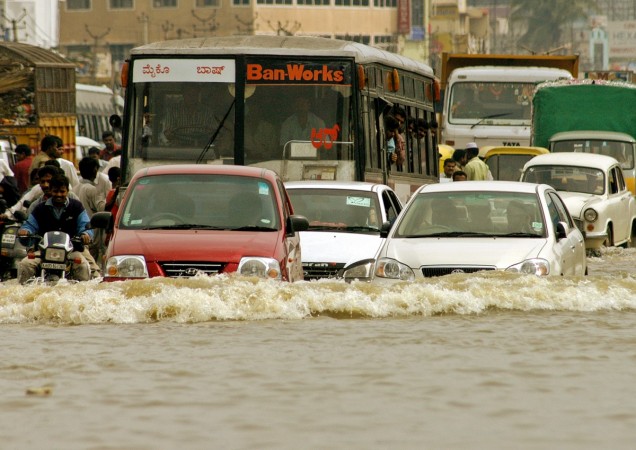 Traffic in Bengaluru had barely got back on its feet when incessant rains from Thursday night and Friday inundated lakes, flooded streets, uprooted trees — all contributing to the IT capital's never-ending traffic woes. The city was partially crippled during the first three days of the week due to a strike called by state bus drivers demanding a wage hike.
Major arterial roads in the Karnataka capital, including Old Madras Road, Hosur Road, Outer Ring Road, Bannerghatta Road and Ballari Road, faced huge traffic jams.
The Bellandur Lake, picturesque during spring, turned into a nightmare like it does every monsoon season, flooding the roads and leaving Yemalur residents to fend for themselves.
The Bruhat Bangalore Mahanagara Palike control rooms have been dealing with incessant calls from distressed citizens throughout the day. Fire and Emergency Service were deployed on Friday morning to help citizens. They deployed boats in Kodichikkanahalli to move the people out.
At least 30 trees lay uprooted on Rajkumar Road, Basavanagudi, Ragigudda and Jayanagar 9th Cross.
Latest satellite image showing heavy cloud cover over #Delhi #Gurgaon #Mumbai #Bangalore: https://t.co/YUTR4Ke0N0 pic.twitter.com/ZxQrfUVE1B

— SkymetWeather (@SkymetWeather) July 29, 2016
The traffic police in the city tried to ensure smooth flow of traffic on Friday by filling up potholes.
Parts of Hongasandra and H.S.R were also flooded. Residents in Kodichikkanahalli were asked to evacuate. Many residents shifted to upper floors and food and water was distributed among them. Veerasandra Junction, the NICE Road junction below Electronics City flyover on Hosur Main Road were flooded since Friday morning.
Meanwhile, at some places in the city, people took to the streets to catch fish that had ome out of overflowing lakes and reservoirs.
Similar reports came in from other parts of the country, including Gurugram and Delhi.
People took to Twitter to criticise or find a bit of humour in the situation.
I hear Bangalore is in the same boat As Gurugram and Delhi. Rained all night. Roads jammed. #Swim — Aparna Jain (@Aparna) July 29, 2016
Citizens of Bangalore. It's time to sue BBMP. Perhaps even the Govt of Karnataka. https://t.co/lAD1467gm4

— Nakul Shenoy (@NakulShenoy) July 29, 2016
What bandra traffic is to Bombay, silk board seems to be for Bangalore pic.twitter.com/ZBMWhlRafH — AD (@anaggh) July 29, 2016
In Bangalore this morning if you are driving, you can boat for free #waterlogging

— Gaurav Kalra (@gauravkalra75) July 29, 2016

Just past Silk Board junction this morning, knew I should have gotten the boat serviced #Bangalorerain pic.twitter.com/fSZe0CeDy3

— Gaurav Kalra (@gauravkalra75) July 29, 2016

People going towards Hosur road FYI. #Bangalorerain @WeAreBangalore Plan weekend trips to Tamil Nadu accordingly. pic.twitter.com/1D8PClPi9M — G (@gunjangovani) July 29, 2016

Rain creates water-logging in many areas in #Bangalore. Houses, Apartments, Shops submerged @SkymetWeather pic.twitter.com/CN5oLFvTik

— Manjunath Naglikar (@manjunathn2) July 29, 2016