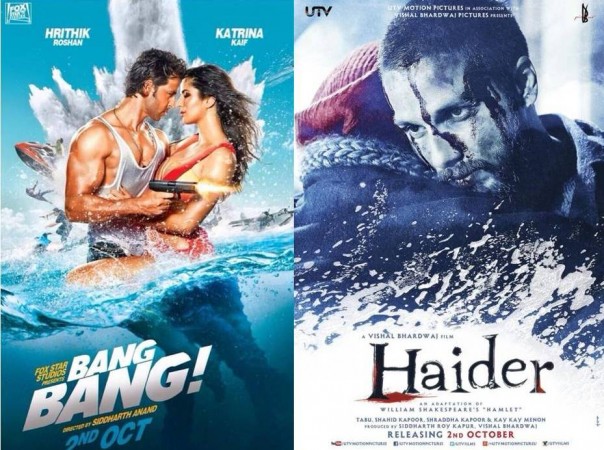 Two big films of this year "Bang Bang" and "Haider" are set to clash at the box office on an extended holiday weekend starting from 2 October.
Both the films features Bollywood biggies and thus there is a comparison between the two movies. But trade experts feel that it is unfair to compare both the films as the genre, screen count and budget of the movies are very different.
"Bang Bang" is an out-an-out action thriller film starring Hrithik Roshan and Katrina Kaif in the lead roles. The film is an official remake of Hollywood film "Knight and Day". It is said to be one of the costliest films of Bollywood as the production cost of the film is said to be ₹140 crore.
Also, the film is releasing in 4,500 screens, which is one of the widest release.
On the other hand, "Haider" is an adaptation of William Shakespeare's "Hamlet". The film is directed by Vishal Bhardwaj and features ensemble cast including Shahid Kapoor, Tabu, Shraddha Kapoor, Irrfan Khan and Kay Kay Menon.
The screen count and the budget of the film are very low compared to "Bang Bang". The film is set to release in around 1,000 to 1,200 screens and the production cost is said to be around ₹24 crore.
Despite all the above-mentioned reasons, both the films have created strong buzz online and thus there is a comparison as to which movie will dominate the box office.
But trade experts and directors have a different opinion.
"It's not a clash of the titans at all. It is unfair to compare them..." trade analyst Komal Nahta told IANS. "Cinematically speaking, it's true! Not only the tone and tenor of the two films are diverse, their directors are poles apart in their sensibilities and approach while narrating a story."
Director Bhardwaj said there is not a single common factor between both the movies.
"'Bang Bang!' is said to be a Rs.180 crore film, ours is a Rs.24 crore film. Of course, they would need more money to break even, we would need less," Bhardwaj said.
"It's a very big weekend and it can accommodate two films and that's why we thought of releasing with 'Bang Bang!'," he added.
Exhibitor Rajesh Thadani also dismissed the comparison and said: "Hrithik is altogether in a different league, so let's not compare them.
Their budgets and costing are also different, so there is no space for comparison. Also, 'Bang Bang!' will have more screens compared to 'Haider', so let's not compare."