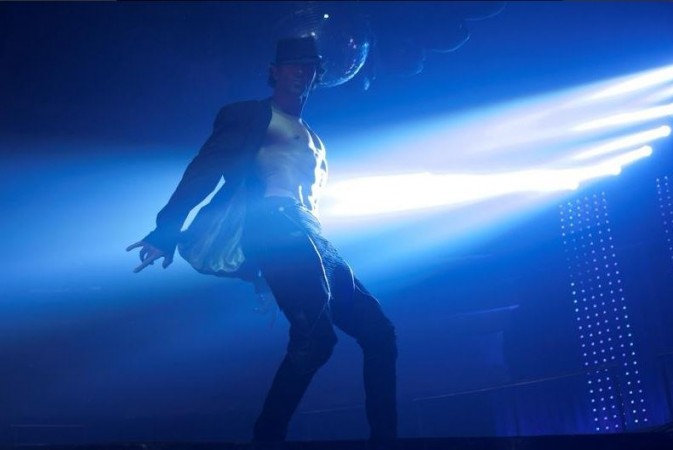 Hrithik Roshan is all set to charm the audience with his tribute to the God of dancing – Michael Jackson -- in his upcoming movie "Bang Bang". The makers on Wednesday released the stills of Roshan in MJ look.
In the title track of the film "Bang Bang", Roshan will be seen recreating the magic of his dance idol, the late King of Pop Jackson. But that's not all; audience will also get to see Katrina Kaif doing some great moves.
The title track, which will release on Wednesday night, is a complete party number. Roshan and Kaif have shown their sizzling chemistry in the first two songs "Tu Meri" and "Meherbaan". And looking at the stills from the third song, one can say that the lead couple will set the stage on fire.
In the third song, Roshan will recreate Jackson's magic but in his own style. Roshan is one of the best dancers in Bollywood and he has previously shown some great moves in the song "Tu Meri".
"I have idolized Michael Jackson since the time I first moved to a dance beat. I remember learning the moves through play-pause mode for hours. I love his style and energy, so when Bosco and Sid (Siddharth Anand) said 'Michael Jackson', at first I thought there's no way I could match up, but then I reframed that and did it for my love for him in my own style, my own way," Roshan told Bollywood Hungama.
"Also, where there is love, there is no fear. That made it fun. The Bang Bang title track itself is outstanding which empowered me further. It's my ode to the inspiration he has been."
Roshan also added that both he and Kaif have given their 100 percent for this particular song.
"This is an out-an-out dance/party track. It's high on glamour, scale and Katrina and I have danced our hearts out," he added.
The song will release on Wednesday night, but the makers have released a 15 second teaser of the song for the audience. Watch the teaser below: