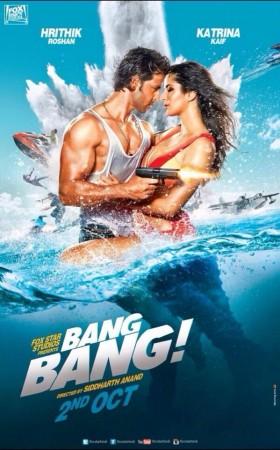 Hrithik Roshan and Katrina Kaif's starrer "Bang Bang" has finally hit screens on Gandhi Jayanti. The film, as expected, has opened mostly with positive reviews and huge occupancy.
Siddharth Anand's directorial film features high octane action scenes with Roshan and Kaif's amazing dance moves and their sizzling chemistry.
Read the reviews below:
Ali Zafar: Saw #BangBang. @iHrithik has taken fitness and heroism to some other level. Katrina fans r in for a treat. All the best to the team.
Sujoy Ghosh: saw BANG BANG last night. @iHrithik casually redefines what acting is all about...
Bollywood Hungama News Network in its review said: "Overall, the film's wide release during the long holiday should definitely work in its favour. Add to that, the popular starcast of the film will ensure that the movie sails through comfortably at the box-office.
"So, if you are looking high-octane action scenes, sleek visuals, melodious music and if you love masala movies, then BANG BANG should definitely be your pick for this extended weekend.
Sneha May Francis of Emirates 24/7 said: "While his grueling gym workout will definitely draw the women (in hordes) to the theatres, Hrithik's Rajveer doesn't match up to his own in 'Zindagi Milegi Do Bara', 'Jodha Akbar' and 'Lakshya'.
"Bang Bang! is less about logic, and more about fluff. And, that's not a bad thing, if it had been done well. But, 'Bang Bang!' ends up being an unimaginative ogle-fest. Clearly, technology has handed us more options than just Bollywood to go for."
Prajakta Hebbar of IBNLive said: "iHrithik is juggling action, charm and humour perfectly so far. #BangBang. We were wondering how #BangBang will add songs in a tight storyline (like #KnightAndDay). But #TuMeri appears organically and dramatically."
"Slick product placements aside, #BangBang is fast-paced and action-packed so far."
Vinod Talreja of BollywoodLife.com said: "Bang Bang certainly starts with a bang. Till now Bang Bang is entertaining. Waiting to see if it continues to entertain in the second half as well."
Rohit Vats of Hindustan Times said: "Bang Bang is one such film, where the lead actor looks engrossed and too careful about creating a brand image. He believes whatever he is doing is going to be applauded by the audience."
Shubhra Gupta of India Express said: "Hrithik is the film's eye candy and the prime shooter, all rolled into one, and gives you some amount of bang. The rest is burble."