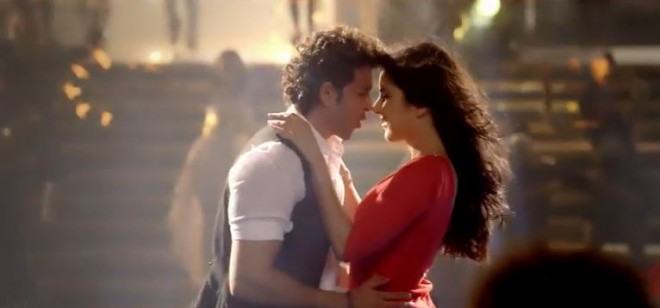 Hrithik Roshan and Katrina Kaif starrer "Bang Bang" collection has crossed the ₹150 crore mark in India. With this, the film has also earned its production cost of ₹140 crore.
Meanwhile, the gross total of the film has reached ₹290 crore and it's now just ₹10 crore short of reaching the ₹300 crore club at the worldwide box office.
"#BangBangMovie crosses v150 cr in India. Rakes in nearly ₹20 cr in the 2nd weekend. India total @ 154.68 cr nett. Worldwide total @ ₹290.97 cr," production house Fox Star tweeted.
"Bang Bang" raked in around ₹20 crore in its second weekend at the box office, taking its overall domestic net earnings to ₹154.68 crore. The gross earnings stand at ₹221 crore after 11 days, according to an official statement from the production house.
On its second Friday, the collection was affected due to several new releases and the film earned only ₹4.9 crore. However, the dismissal performances of the new releases helped the box office collection of "Bang Bang" to recover.
The film's business went up on Saturday and Sunday, and it fared ₹6.3 crore and ₹8.03 crore respectively.
The film showed no signs of slowing down in the international market as well. The film managed to entertain audience in the Middle East, the UK, the US, Australia, New Zealand and Pakistan in its second weekend.
The film has even shattered the overseas box office records of Salman Khan's "Kick". The Salman film, which is still the highest grosser of 2014, fetched more than ₹67 crore ($11.1 million) in its lifetime run, while "Bang Bang" raked in ₹70 crore ($11.3 million) in 11 days.
Here is the overseas breakup of the film till 12 October:
US-Canada: Till 9 October, the film fetched ₹10.78 crore.
UK-Ireland: "Bang Bang" has taken its 11-day total to ₹9.74 crore.
UAE-GCC: The film performed best in the Middle East. Till its second weekend, the film fetched ₹28.17 crore.
Australia: After the second weekend, the film's total stands at ₹2.22 crore.
New Zealand and Malaysia: Both markets performed below the mark. From New Zealand the film earned ₹84 lakh and from Malaysia it minted ₹38 lakh.
Pakistan: In the neighbouring country, the film shattered the records of Pakistani films. It remained the first choice for moviegoers even in its second weekend at several theaters. Till 11 days, the film managed to earn ₹4.32 crore.