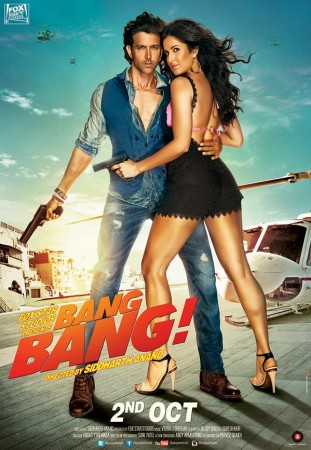 Hrithik Roshan's "Bang Bang" box office collection has been affected badly due to the release of Shah Rukh Khan's "Happy New Year".
The action drama, which was eyeing to cross the ₹200 crore mark at the box office, will now end up its lifetime total with less than ₹190 crore.
Domestic Box Office
The collection of Hrithik-Katrina Kaif starrer declined in its fourth week after "Happy New Year" released in the market.
The film has even failed to beat the record of Ranbir Kapoor and Deepika Padukone's "Yeh Jawaani Hai Deewani" and Salman Khan's "Ek Tha Tiger".
"Bang Bang" will now rest in the eighth position in the highest grosser films list. With ₹179 crore, "Bang Bang" has become Hrithik and Katrina's second highest grosser film.
Overseas Box Office
In India, the film failed to attain the highest grosser film of 2014 tag, but "Bang Bang" is ruling the overseas box office. It has become the highest grossing film of 2014 at the overseas box office.
The movie has made more than ₹68 from the overseas market, making it the fifth highest earner film of all time in the international box office and highest grosser film of 2014.
The Gulf region contributed around 40% of the income, while North America contributed 25% and the UK-Ireland region contributed 15%, according to Bollywood Hungama.
The overseas box office collection of "Bang Bang" as of 26 October is as follows:
North America (US-Canada): From the US, it fetched in ₹12.10 crore ($1,976,422), from Canada ₹3.68 crore (US$ 602,324) and total of both the circuits is ₹15.78 crore.
UK-Ireland: From the UK "Bang Bang" raked in ₹11.36 crore (£ 1,154,631)
UAE-GCC: This circuit contributed the maximum revenue. The USE-GCC total of the film stands at ₹32.48 crore (AED 19,493,400).
Australia: From the Australian box office, the film minted ₹2.46 crore (AS$ 380,115).
Pakistan: The film minted ₹5.04 crore (PKR 84,034,944) from the neighbouring country.