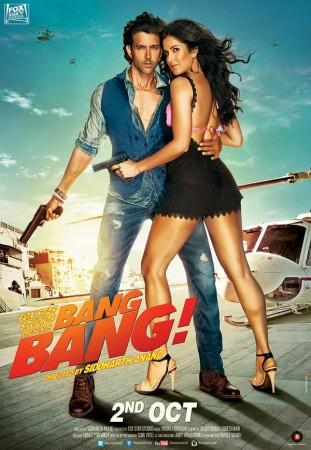 Hrithik Roshan and Katrina Kaif starrer "Bang Bang" is continuing its powerful run at the box offices in India as well as overseas. The gross worldwide box office collection of "Bang Bang" has crossed the ₹300 crore mark within 12 days.
The film is now set to beat the gross worldwide income of Ranbir Kapoor and Deepika Padukone's blockbuster hit movie "Yeh Jawaani Hai Deewani".
"Bang Bang" requires only ₹3 crore to beat "Yeh Jawaani Hai Deewani" ₹311crore mark.
"#BangBangMovie gets ₹3.41 cr on Wed in India - total @ ₹165.19 cr. Worldwide total @ ₹308.8 cr gross. A runaway hit is the cry all over," Fox Star, the production house, tweeted.
"#BangBangMovie is rock steady with ₹3.49 cr on Tue in India. Totals ₹161.78 cr. Worldwide total is ₹304 cr gross. It's a Bang-on Hit, all right!"
"#BangBangMovie continues to make noise - Collects ₹3.61 cr on Monday in India.Total @ ₹158.29 cr nett.Worldwide collections touches ₹300 cr."
Hrithik-Katrina starrer action thriller, which is a remake of Hollywood movie "Knight and Day," has been going strong at the worldwide box office. In India also, "Bang Bang" is ruling the box office chart despite new releases.
Also, the screen count of the film has declined in its second week, but still it has retained its No.1 position at the box office.
From domestic box office, the film fetched ₹3.41 crore on the second Wednesday, ₹3.49 crore on Tuesday and ₹3.61 crore on Monday.
Meanwhile, the action director of the film, Andy Armstrong, has praised Hrithik for the action scenes. The Hollywood stunt director was asked whose stunts are better -- Hrithik's in "Bang Bang" or Tom Cruise's in "Knight and Day".
In answer he told BollywoodLife.com: "Well obviously I am a little biased because I did not do Knight and Day but in my opinion, Hrithik's action is far greater, cooler and better done than Tom Cruise's action in Knight and Day."