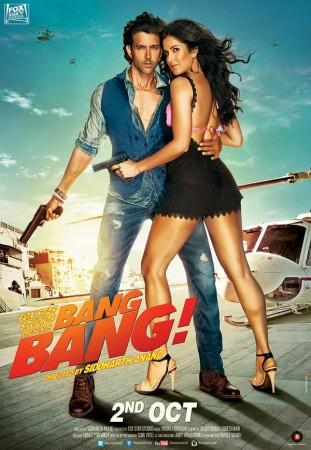 Hrithik Roshan and Katrina Kaif starrer "Bang Bang" box office collection has crossed the ₹100 crore mark in India in less than five days.
The production house tweeted saying that the film entered the coveted club in just four-and-a-half days.
"Its happened ! #BangBangMovie fires away to ₹100 cr in just 4.5 days. All guns blazing at the box office, we say :) @iHrithik #KatrinaKaif," Fox Star tweeted.
The film earned ₹15.36 crore on Monday (fifth day), taking its domestic income to ₹109.49 crore.
"#BangBangMovie update: Collects ₹15.36 cr on Monday in India. Totals ₹109.49 cr nett till now. Seems it was a #BangBang Monday all the way," Fox Star tweeted.
"Bang Bang" is the 33rd film to earn ₹100 crore at the domestic box office. It is Roshan's third film and Kaif's fourth to cross the ₹100 crore benchmark.
Meanwhile, director Siddharth Anand made his entry in the century club with "Bang Bang". He is delighted that the film has done amazing collections and moreover it is being appreciated by audience.
"I'm delighted. It's a massive achievement for all of us. It's amazing that Bang Bang is being loved by people, especially the family audience. It is a complete masala movie and we made it with the intention to entertain everyone. I make movies for people to enjoy, to forget about the stress that is a part of the mundane lives we live. It is a full paisa vasool film and the audience is loving it," Anand told The Times of India.
From the overseas front, "Bang Bang" has shown tremendous growth especially in the Gulf region. The film minted whopping ₹14.48 crore (AED 8,630,804) in its opening weekend from the UAE-GCC circuit.
In UAE-GCC circuit it has emerged as the second highest opener for Bollywood film ever in Gulf after "Dhoom 3", which earned ₹17.37 crore in opening weekend.
Also, the film has managed to beat Salman Khan's "Kick" overseas six days total in just the opening weekend. It had earned ₹36.25 crore in six days, whereas "Bang Bang" earned more than ₹44 crore in the first weekend.
Here is the country wise foremost weekend break-up of the film.
US-Canada: ₹8.68 crore ($ 1, 410, 383)
UK-Ireland: ₹5.88 crores (£597,058)
Australia: ₹1.37 crore (A$ 255,845)
New Zealand: ₹55.55 lakh (NZ$ 115,861)
Malaysia: ₹19.32 lakh (MYR 102,194)
Pakistan: ₹1.97 crore (PKR 32,822,397)