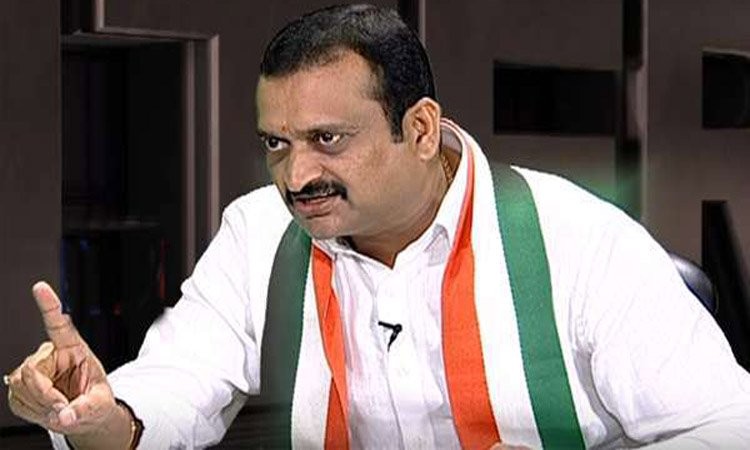 Producer Bandla Ganesh, who has produced Gabbar Singh and Baadshah, has finally broken his silence and slammed the reports about the Congress defeat in Telangana, his exile and slitting throat comment.
Bandla Ganesh, who has been staying away from film production for some time now, recently campaigned for Congress in Telangana Assembly elections 2018. In an interview, he had said that he would slit his throat with a blade if the Congress-led Mahakutami (Grand Alliance) lost in the polls.
The Telangana Rashtra Samithi (TRS) decimated Mahakutami and Bandla Ganesh stayed away from media. It was rumoured that he had gone hiding and questions were also raised about him cutting his throat. The producer visited Lord Venkateshwara Temple on the occasion of Vaikunta Ekadasi to offer prayer when he was countered by some reporters, who asked about his promise.
Talking about his exile, Bandla Ganesh said, "I wish everyone a happy Vaikunta Ekadashi. May god happiness to all. There are reports that I am in exile, but I am not. I didn't know what to speak after we didn't get the expected results. Hence, I stayed away (from media). I kept silent and decided not to talk anything after the people reject our party and TRS went on to sweep."
When asked about his promise of cutting neck, Bandla Ganesh said, "We say 100 words out of excitement. Many people say many things. Will they make anything happen (fulfilled)? Just to give confidence to our party, I said those words. But my confidence turned as overconfidence. What to do?"
However, Bandla Ganesh is a close friend of power star Pawan Kalyan and he was seen defending the latter and his Jana Sena party earlier this year. But many were surprised when he announced his entry into Congress party. He wants to contest Telangana assembly election, but he did not any ticket from the party.