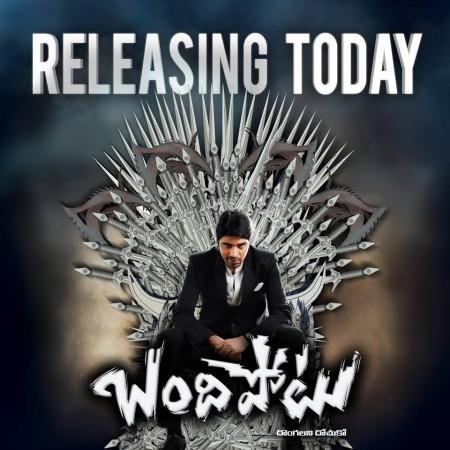 Allari Naresh's "Bandipotu", which released on 20 February, has garnered mixed reviews from film critics.
A few critics are not happy with the scripting works of director Mohan Krishna Indraganti.
"Bandipotu" is a crime comedy that revolves around the life of conman Vishwanath who cheats the rich and corrupt. Jahnavi (Eesha) hires him to con three big shots. How Vishwa successfully cons them with his side-kick will form the crux of the movie.
Allari Naresh and Eesha play the lead roles, Vishwanath and Jahnavi, while Sampoornesh Babu, Rao Ramesh, Tanikella Bharani are the supporting cast members. All of them delivered good performances and critics have praised them as well. Kalyani Malik's music and PG Vinda's cinematography have also impressed the critics.
Before its release, "Bandipotu" had created a lot of buzz in the media over one big reason: it marks the entry of art filmmaker Mohan Krishna Indraganti into commercial cinema. But the director seems to have failed to impress the critics, who claim his weak scripting resulted in the poor show.
We bring you film critics' verdict on the movie. Read "Bandipotu" movie review roundup below:
Although Bandipotu's story is nothing new and banks on the same old Robin Hood-esque style of cinema, Mohan Krishna Indraganti's treatment of the script makes it watchable; except for the few loopholes. It probably needed the director to push the envelope a bit more.
Mohana Krishna Indraganti hits the bulls-eye with his witty dialogues, and so do cinematographer PG Vinda and music director Kalyani Koduri. But if you are looking for a big wow factor, since it was touted as a con drama, then the film leaves a lot to be desired. At a run time of nearly 140 minutes, the film does have its share of laugh-out-loud moments sans any double entendre, apart from reinventing Allari Naresh's image. Despite all this, the film leaves you wondering if the utter-simplicity with which the protagonist pulls off the con job is a big dampener to the story itself.
This is a basic revenge story with a few comedy scenes. Naresh, popular for his comic roles, tries to fit into this new persona, but succeeds only partially. Eesha looks fresh, but the chemistry between Naresh and Eesha does not work.
Allari Naresh departs from his regular style and indulges in this movie which is in a different genre. Mohan Krishna Indraganti is making sure that he is not repeating the genre in the five films he has done so far. Though, he has done this film in a classy way, there are enough commercial elements and entertainment quotient to take these film to masses. On a whole, Bandipotu is a well told story with good humor. You may watch it!!
A script that needed was meant to be an intelligent mind game ends up looking like a half-baked comedy.
Barring a few spirited moments in the first half, Bandipotu has very little to offer to the discerning audience in terms of entertainment values.
The lead actors act well and save the film to an extent. The songs composed by Roshan Saluri are modern and help the film sustain the audience interest. Amidst all these positives, the director fails to instill the feeling of love among the audience with this musical love story. The audiences will end up dissatisfied with this half baked love saga.