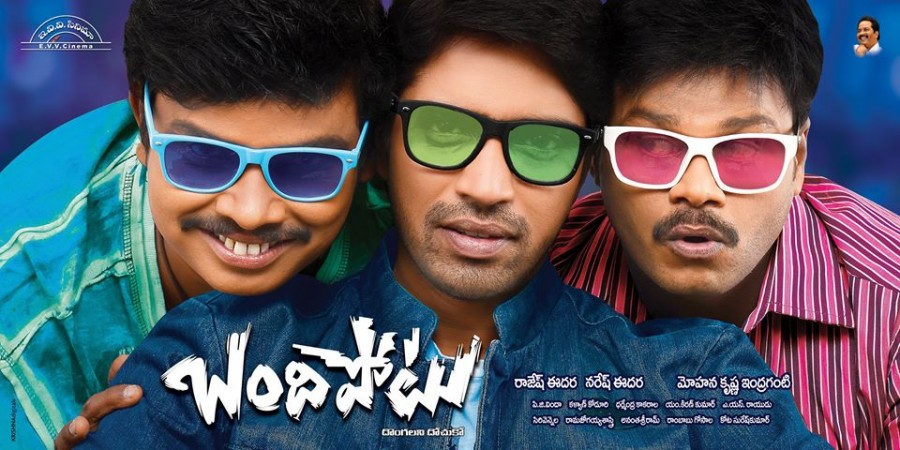 Comedy King Allari Naresh, who was last seen in "Brother of Bommali", is back with another humorous entertainer titled "Bandipotu". The flick hit the marquee on 20 February.
"Bandipotu" means Bandit and its title is inspired by late legendary actor NT Rama Rao's 1968 film. It is not Naresh's regular slapstick and spoof comedy film and it does not have irrelevant jokes. Written and directed by Mohan Krishna Indraganti, the movie revolves around some weird characters that will generate situational comedy.
Allari Naresh plays a con who steals money from the rich and the corrupt, while Eesha appeared as an independent working woman who steals his heart. Talented actors such as Srinivas Avasarala, Posani Krishna Murali, Tanikella Bharani and Sampoornesh Babu have essayed pivotal roles in the film.
"Bandipotu" has been produced by Aryan Rajesh under Naresh's home banner EVV Cinema. Kalyani Koduri has composed the music for songs as well as background score, while PG Vinda handled the cinematography for the movie. Mohan's script, Allari Naresh and other performances and rich production elements are big attractions of the film.
We bring you the Twitter posts of those who have watched the film. Here are the live updates of "Bandipotu" movie review by viewers:
Mahesh S Koneru @smkoneru
One hour into Bandipotu.. Pretty decent film so far.. Refreshingly new Naresh.. Bandipotu is very different from Allari Naresh's previous flicks.. Its not a mass comedy with mindless scenes..It is classy & entertaining.
Balu Mahendra @balumahendra_v
Good First Half.... #Bandipotu ... Comedy Senes between Avasarala Srinivas as "cheekati prasad" and tanakala Bharani were excellent...#good #first half Posani as balley babu... Chandra Mohan as parvathalu.... superb election comedy scenes..allari Naresh as usual at his best #Bandipotu A revenge Story, with a strong message.Good performance from all the actors, Superb Direction. #Bandipotu Movie #Must Watch
Abhishik4U @abhishekreddyR
After a long time another walkout film. With #Bandipotu,AllariNaresh continued his form and MohanKrishna Indraganti back to his form. Atleast 1st half is little bit bearable,but 2nd half is totally horrible.#Bandipotu
Sashaank @Shashanksye
A very entertaining crime comedy #Bandipotu..Congratulations @allarinaresh @kalyanikoduri @mokris_1772 sure shot winner..Celebration time :)
Puri Jagan @saishashank4u
#Bandipotu is a class act. Career best for Naresh content wise.diniki season effect undakapothe baundu
Raghava @Rags_aCreator
Baagaaa gattigaaa esesaadu.. Interval lo fans talk sampoornesh koodaaa full length ledu..
Srimanthudu @nameissujith
Sampoo introductiom Ki roaring response ya #Bandipotu
Telugustates.com @Telugustates
First Half done. Fun , Meaning full diologues , and a superb conversation scene . @allarinaresh ' s stylish performance. #Bandipotu
Naren Reddy @NarensTweetz
Em ledhu... Below Avg First half #Bandipotu. Thuppas storyline ki Indraganti flat narration.. Only positive length thakkuva.. AiPoindi Cinema.. Mohamatam lekunda lite teeskovachu Induke cheppedi.. Indraganti kante E.Sattibabu better ani #Bandipotu
Survi @PavanSurvi
Nothing NEW or SURPRISING till Interval!! No COMEDY tooo.. #Bandipotu
Neninthe @ikameshp
Interval : Dialogues and presentation adiraayi, first half bagundi disappoint cheyale.. #Bandipotu Excellent story writing and direction. Mohana krishna indraganti rocks m/ Hit-u cinema #Bandipotu