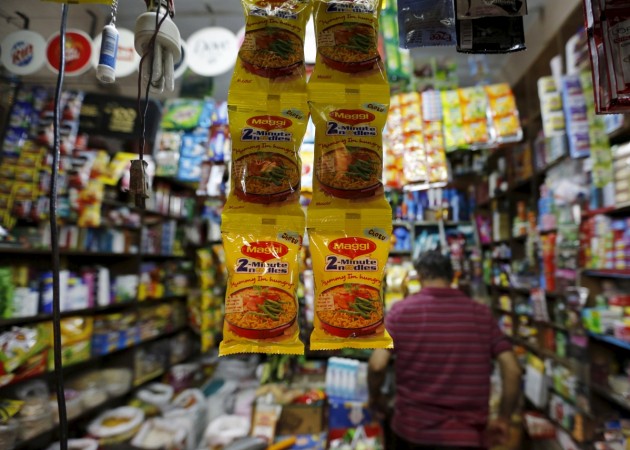 Brand value of Maggi is expected to fall by over $200 million or nearly ₹1,300 crore, as a result of a ban on the popular instant noodles by Indian authorities.
On 5 June, the food regulator mandated Maggi-maker Nestle India to recall all the available stock in the market following confirmation of harmful levels of lead in the 'two-minute noodles'.
Nestle India is estimated to recall 27,420 tonnes of Maggi noodles, including about 1,422 tonnes of noodles that are at its five factories in the country. Currently, the factories have halted the production of Maggi noodles.
Before the ban, Maggi's brand had a valuation of $2.4 billion and its manufacturer was the 23rd most valuable global food brand. A loss of $50 million in recalling Maggi noodles along with "damaged brand" is estimated to shrink the brand value to $2.2 billion, according to Brand Finance.
"Nestlé will have to turn around swiftly to ensure that the Maggi brand can retain its dominance in the Indian market. If not, the Nestlé brand itself could be at risk as the Nestlé logo prominently features on the back of Maggi noodles packaging, making it synonymous with the Maggi brand," Brand Finance CEO David Haigh told NDTV Profit.
Nestle India on Monday estimated the loss in recalling Maggi noodles at ₹320 crore.
Nestle India is reportedly using 10,000 trucks to carry over 27,000 tonnes of recalled Maggi noodles to the incineration centres. Destruction of such a huge amount of controversial noodles recalled from over 3.5 million retailers is expected to last for at least 40 days, Livemint reported.
A drop in Maggi sales is expected to have a major impact on Nestle India's performance, as the noodles account for 15 to 20% of the company's overall revenues. Nestle occupies 60% of share in the instant noodle market in the country.
"Sales of Maggi brand have increased by 21 per cent CAGR over the past 10 years (sales contribution rising by 1,100 basis points) but have remained weak over the past two years - a trend that is likely to persist near-term (impacted by rising competition and muted consumer environment)," Barclays told Business Today on 4 June.
Shares of Nestle India traded at ₹5,850.00 on Wednesday, down over 17% from ₹7,064.85 on 27 May.