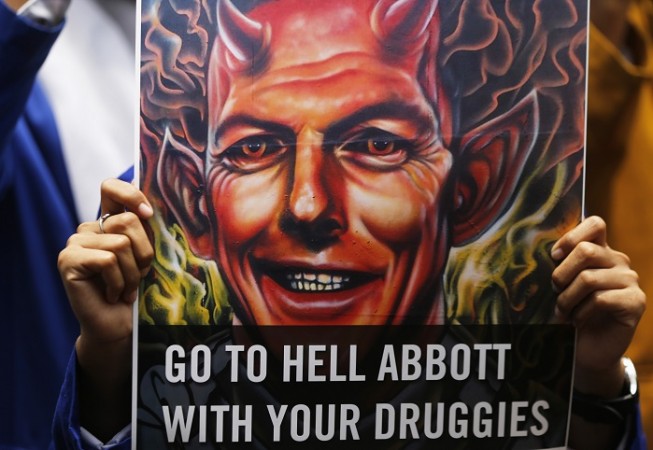 Australian Prime Minister Tony Abbott on Thursday offered some hope of saving the two 'Bali Nine' members currently on death row, after talking to Indonesia's President Joko Widodo who, Abott said, is "carefully considering his position" in the case.
This comes after months of row between the two countries over two Australians-- Myuran Sukumaran and Andrew Chan– the ring leaders of "Bali Nine" drug smuggling gang, facing execution in Indonesia.
Abott telephoned Widodo on Wednesday.
Australia's appeal for presidential clemency for the two Australians was recently rejected by Widodo, leading to their imminent execution from a firing squad.
A court this week also dismissed a bid to challenge president's decision.
Abbot on Thursday, however, said that it was a positive sign that a conversation took place between him and the Indonesian leader.
"The fact that the president of Indonesia and the prime minister of Australia can talk candidly about these issues is a sign of the strength of the relationship and it's a sign of the depth of the friendship between Australia and Indonesia," said Abbot, who last week irked many Indonesians after he linked the clemency bid to Australia's help to Indonesia during the 2004 tsunami tragedy.
Abbot cited his conversation with Widodo and said that it would "suffice to say that the president absolutely understands our position," before adding that his Indonesian counterpart was "carefully considering Indonesia's position," reports AFP.
There is general consensus, however, that it is unlikely Indonesia will halt the execution, especially after Widodo insisted this week that other nations must not interfere in the country's right to use the death penalty.
Additionally, Attorney General Muhammad Presetyo on Wednesday said that the preparations for the execution were "about 90 percent" complete.
The two Australian citizens and the ringleaders of the "Bali Nine" drug smuggling gang were arrested in 2005 for trying to traffic heroin out of Indonesia and were sentenced to death the next year.