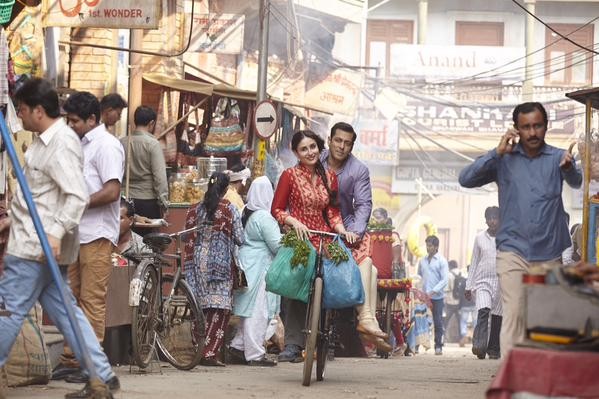 Bollywood Superstar Salman Khan, who is often seen cycling on the roads of Mumbai, insisted director Kabir Khan to incorporate some bicycle scenes in "Bajrangi Bhaijaan".
The trailer of "Bajrangi Bhaijaan", which was released on YouTube on Thursday evening, features Salman Khan riding a bicycle, while actress Kareena Kapoor sits on the front bar of the two-wheeler. This scene is said to be one of the big attractions of the film and it was added in the film after Salman requested for it.
Salman Khan was earlier seen riding a cycle in his last outing "Kick", which has become a blockbuster success at the box office. This cycle scene was listed as one of the most memorable scenes of the film and it invited maximum hooting from his beloved fans. After this appreciation, the actor himself started considering the cycle scene lucky for his films.
A source close to the actor says that Salman, who says bicycle is his favourite mode of transport, insisted Kabir Khan to incorporate a cycle scene in the film. The director readily agreed to the same, which resulted in Salman travelling on his Bicycle throughout the film. The source adds, "Like in 'Kick', his bicycle scene will be one of the big attractions of 'Bajrangi Bhaijaan'."
However, the trailer of "Bajrangi Bhaijaan" offers enough hints to guess the storyline of the movie. The fans, who watched the video on YouTube, could not stop raving the emotional quotient of the film. Many of them say this movie has blockbuster written all over it. Here are a couple of comments about its trailer.
Kumar Abhishek
This is going to be BIGGEST ever salman film. Releasing on EID, a protagonist whose name is on Bajrang bali and who plunges into pakistan to help a girl get back home !Full of Emotion and Entertainment ! looking forward to it :)
Samrat Hussien
The plot of the movie is very touching. I would definitely do the same in real life to help child meet his or her family, no matter what trouble I come across. And I have full faith in Salman bhai that he would do the same. Thats why I will love the movie. I can trust this. Very honest plot bhaijan. Thumbs up!