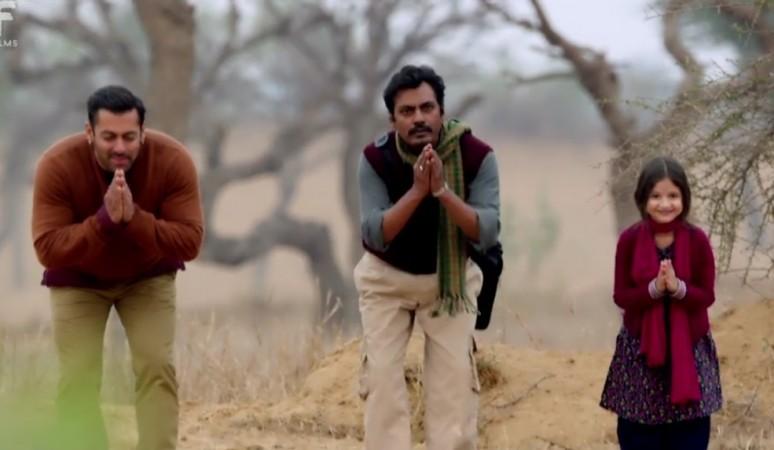 The music video of the song 'Zindagi Kuch Toh Bata' from the upcoming film "Bajrangi Bhaijaan" featuring Salman Khan, Nawazuddin Siddiqui and Harshaali Malhotra offers glimpses of breathtaking locales of Kashmir.
"Bajrangi Bhaijaan" is a person's emotion-filled journey to reunite a little Pakistani girl, who strays into India, with her parents in Pakistan.
Director Kabir Khan was keen on making a special segment in the film that would showcase the bonding between Salman Khan, Nawazuddin Siddiqui and Harshaali Malhotra.
Composed by Pritam, the song 'Zindagi Kuch Toh Bata' has been written by Neelesh Misra and sung by Jubin Nautiyal. The track is part of a narration of the film's story and shows the hero's journey to find the little girl's house in Pakistan.
'Zindagi Kuch Toh Bata', featuring Salman, Nawaz and Harshaali has been shot in scenic Kashmir that appears to be border areas.
In the 'travel montage song', Kabir Khan has reportedly shown those parts of Kashmir that have not been shown earlier in Indian films. At the same time, he also tries to depict the relationship between the three characters.
"The song is a very integral part of my story telling in BB. It's a song that celebrates life and one of my favourites because it lifts up your spirits when you hear it," says director Kabir Khan.
Its music video was released on YouTube on 9 July and has got wonderful response from music lovers. Here are some interesting comments:
Ilham Icona
What an extraordinary journey!!! It's a journey full of fun & adventure. #Pavan & #Munni stole the show with their simplicity. I felt #SalmanKhan wasn't acting at all; instead,he was behaving as himself. All of us know that he loves kids. He is the best adorable Khan. love him soooooo much
Islam Shariful
Listened More than 1000 times...still counting..This song has cuteness, emotion, and fun,. Really it's Magical.....!!!!
Suban Butt
Awesomeness overloaded in this song :) Bhaijaan JUst Love u :) Ur The best :)
Ghanja Rabeb
superb song and lovely views kashmir is so beautiful and wish some day i can visit it