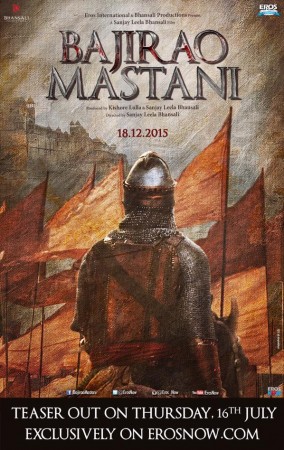 Ranveer Singh, Deepika Padukone and Priyanka Chopra starrer "Bajirao Mastani" trailer is set to release on 16 July. However, a few Bollywood celebs and critics attended a special screening of the same and have been raving about it ever since.
The film has already captured hearts with the first look of the three lead actors. From Deepika's warrior look to Ranveer's royal avatar, the actors look good in the first glimpse from the period drama.
Check out Ranveer, Deepika and Priyanka's look in #BajiraoMastani... pic.twitter.com/lDoCcmP8px

— taran adarsh (@taran_adarsh) July 15, 2015
Sanjay Leela Bhansali's most ambitious project is based on the love story of warrior Peshwa Baji Rao and his second wife Mastani, played by Ranveer and Deepika. Priyanka Chopra will be seen playing Baji Rao's first wife, Kashibai.
"Bajirao Mastani" will clash with Shah Rukh Khan-Kajol starrer "Dilwale" this Christmas at the box office as both the films are releasing on 18 December.
Meanwhile, B-Town is on an appreciation spree about its trailer, which will release on Thursday on the digital platforms. The theatrical trailer of "Bajirao Mastani" will then be attached to Salman Khan's "Bajrangi Bhaijaan", which will release on 17 July.
Priyanka expressed her excitement after watching her film's trailer on her Twitter handle. "So exciting! Best present ever! #BajiraoMastani trailer releasing on my bday weekend!!! Yay! Can't wait to share with you all! Thank u SLB," she tweeted.
Let's take a look at what critics have to say about the film's trailer.
Alia Bhatt
#BajiraoMastaniTeaser stunninggggggg !!! @priyankachopra @RanveerOfficial @deepikapadukone
Ayushmann Khurrana
Wow @RanveerOfficial @deepikapadukone @priyankachopra! Magnum opus in the offing! #BajiraoMastani
Aditi Rao Hydari
Sigh... Swoon... #BajiraoMastani @RanveerOfficial @priyankachopra @deepikapadukone ❤️❤️❤️❤️
Srishti Arya
Now that's power packed! #SanjayLeelaBhansali @RanveerOfficial @deepikapadukone and @priyankachopra !! #BajiraoMastani
Raj Nayak
Wow ! Bajirao Mastani trailer. @deepikapadukone @priyankachopra @RanveerOfficial looking fabulous as always!
Anupama Chopra
Just saw the trailer of #BajiraoMastani What a perfect match of maker and material! Epic in scale, ambition and beauty.
Taran Adarsh
Watched the 3-minute trailer of Sanjay Leela Bhansali's magnum opus #BajiraoMastani. Leaves you spellbound... contd.
Bhansali is a master storyteller. He makes sure the first look of #BajiraoMastani is stunning. And the trailer does demand a repeat viewing.
Ranveer, Deepika, Priyanka look completely in sync with their characters, working hard on their looks and body language. #BajiraoMastani
Raghuvendra Singh
Saw the trailer of #BajiraoMastani & I'm blown away by the grandeur, look, performances and SLB's vision. @RanveerOfficial @deepikapadukone
Devansh Patel
Met the master #SanjayLeelaBhansali after watching the TRAILER of #BajiraoMastani & told him, "History never looked this entertaining"
& what do I tell u a about my darling @priyankachopra - In the TEASER TRAILER of #BajiraoMastani she elevates. Love ain't a mystery to her.
Komal Nahta
O-U-T-S-T-A-N-D-I-N-G! The only word to describe the 1st trailer of Eros and Sanjay Leela Bhansali's BajiraoMastani.It's gonna be H-U-G-E