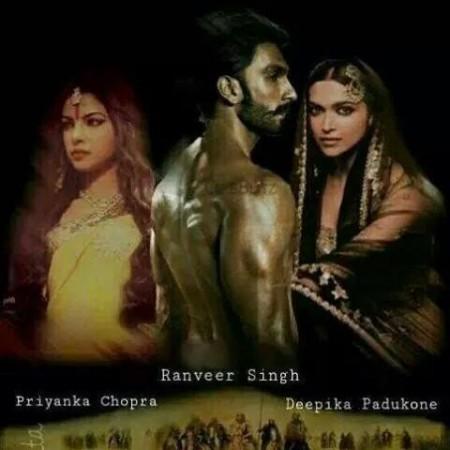 Sanjay Leela Bhansali's dream project "Bajirao Mastani" is ready to soar this December, and the first-look posters are looking good.
While Bajirao (Ranveer Singh) and Mastani (Deepika Padukone) have aced the warrior look, Kashibai (Priyanka Chopra) is a picture of innocence.
Singh posted the first poster captioning it as "A STORM IS COMING .......... #BajiraoMastani."
The finished product may have managed to impress cine-goers, but to get to that has taken some trouble for the makers, who were reportedly in two minds about the release date as the shooting schedule had taken a hit due to the lead actor's shoulder injury.
However, Singh put a stop to the rumours a few months ago. He said not a single day was lost adding they would be able to wrap up the project in time for release.
"While I was gone, Sanjay Sir (Sanjay Leela Bhansali) shot for all the sequences that did not require me! According to me, we haven't lost a single day. We will complete the shoot comfortably and release as per schedule," The Times of India quoted him as saying.
In other news, the teaser is set to release on 16 July and the trailer has been reportedly attached to "Bajrangi Bhaijaan".
Check out the first look of Bajirao, Mastani and Kashibai below: