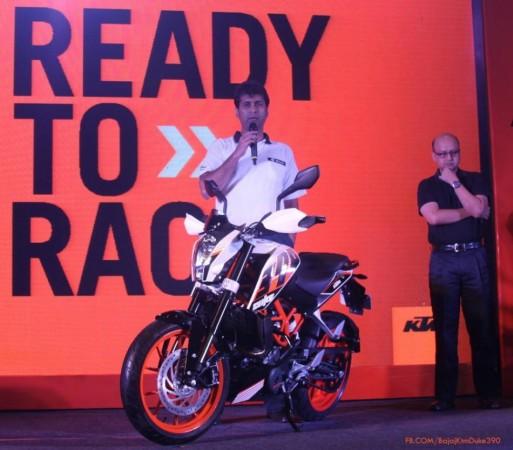 Bajaj-KTM on Thursday said that the company is planning to introduce more racing bikes in the sub-continent in the coming years.
The company which claimed to have marketed 8,000 units of KTM motor bikes last year will be launching two RC brand 'faired' racing bikes next year. According to the company, it has exported nearly 25,000 units of KTM to Europe, Latin America and South-East Asia.
"Bajaj-KTM will launch two variants of the RC brand of 'faired' racing bikes in the calendar year 2014 under the sub-500 cc category," said Amit Nandi, vice-president of Bajaj Probiking adding that "The small displacement KTM bikes were being manufactured at the Pune plant and sold globally," reported PTI.
The company launched its KTM 390 Duke in Metropolis on Thursday. The bike which is the country's first mid-size sports bike comes with an engine which delivers 43.5 ps of power and 35 NM of torque. The vehicle will be available for purchase through 71 exclusive KTM showrooms with a price tag of ₹1, 80,000. Bajaj eyes 10 percent growth in the current financial year and the company hopes the launch of new Duke will help achieve that figure.
"With its powerful engine, light weight and easy handling the 390 Duke will be equally rewarding both for the professional rider as well as the enthusiast," said Nandi at the launch.