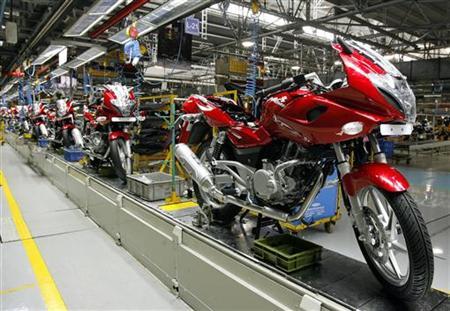 Bajaj Auto reported a modest increase in net profit during the December 2015 quarter even as net sales declined by 1.03 percent due to a drop in volume growth.
Net profit for the third quarter of FY2016 stood at Rs 901.49 crore, up 4.7 percent from Rs 861.24 crore in the year-ago period, while net sales declined to Rs 5,463.20 crore from Rs 5,520 crore, year-over-year, the Pune-based company said in a regulatory filing on Thursday.
Operating EBITDA for the quarter was 22 percent, up from 21.1 percent, year-over-year.
The company's other income was Rs 199.7 crore in the December 2015 quarter, up 109 percent from Rs 95.3 crore in the corresponding quarter last year.
Bajaj Auto sold 9,51,498 vehicles during the quarter, down 3.85 percent from 9,84,520 units sold during the corresponding period last year.
The fall in volumes was mainly due to a drop in exports.
"With the oil prices coming down substantially, some market are facing balance of payment issues resulting in non-availability of US$ for imports. This has affected the company's despatch to those markets. Markets affected are primarily Egypt and Nigeria," the company said in the filing.
Export revenue was Rs 2,281 crore during the quarter under review, down from Rs 2,680 crore in the year-ago period.
Surplus cash and cash equivalents stood at Rs 9,430 crore as on 31 December, 2015.
The Bajaj Auto stock closed at Rs 2,310 on the BSE, down 1.62 percent from its previous close. The S&P BSE Sensex settled at 24,338.43, up 115 points, or 0.48 percent.