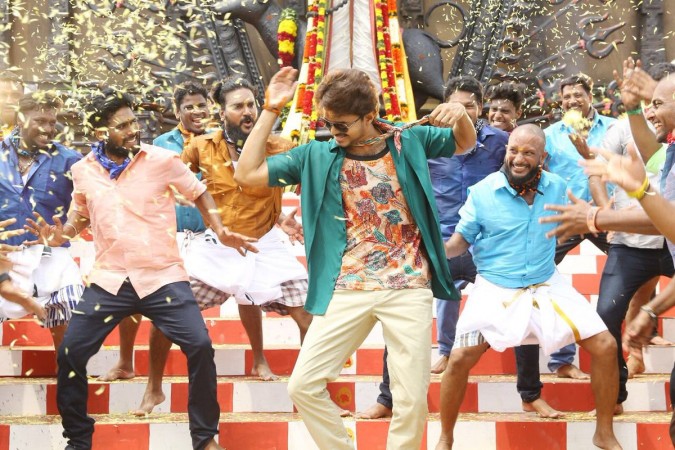 The business of Vijay's Bairavaa witnessed an upward trend on its third day (Saturday) due to the Pongal holiday. After getting a good start, the collections saw a dip on Friday.
Bairavaa (Bhairava) 3rd day box office collection: "After the pre-Pongal working day dip on Friday, #Bairavaa picked up at the TN BO on Pongal day. From today till Tues, it'll be solid again. [sic]" trade tracker Kaushik LM writes. The Chennai, Chengalpet, Coimbatore and a few other centres had good occupancy rates in theatres on Saturday.
Bairavaa was released in over 500 screens in Tamil Nadu on January 12. On the opening day, the movie registered a fantastic occupancy in theatres across the state. The exhibitors and distributors ensured that special shows and early morning shows were held to cash in on the hype around the movie, and that played a major role in its success.
Also read: Bairavaa (Bhairava) 1st day box office collection | Take a Look at the list of Vijay's Films released for Pongal
In multiplexes in Chennai, most of the screens were dedicated to Bairavaa. As a result, the Vijay-starrer got a grand opening in the state. While distributor Sri Green Productions claimed on Twitter that the movie collected around Rs 20 crore on the first day, some trade experts said that it had raked in over Rs 16 crore.
However, many say that these reports are far from the truth. According to critic and trade tracker Sreedhar Pillai, Bairavaa has not broken any record. That means that the movie has not beaten Vijay''s previous best of Rs 13.5 crore set by Theri. According to some estimates, Bairavaa minted Rs 12.45 crore on the opening day.
Also read: Bairavaa Review | Bairavaa Audience Review
On the second day, Bairavaa enjoyed a good occupancy in prime centres although the second day collection is no match to the opening-day business, since the first day has the advantage of special shows.
Trade experts are now expecting the gross collection of Bairavaa to be above Rs 22 crore in three days. It is, however, a predicted number and the official figure is yet to be revealed. In Chennai alone, it has raked in over Rs 2.5 crore.
A major advantage for Bairavaa is that the movie has been granted 30 percent entertainment tax exemption by the state government. So the net collection will now be almost equal to the gross business.