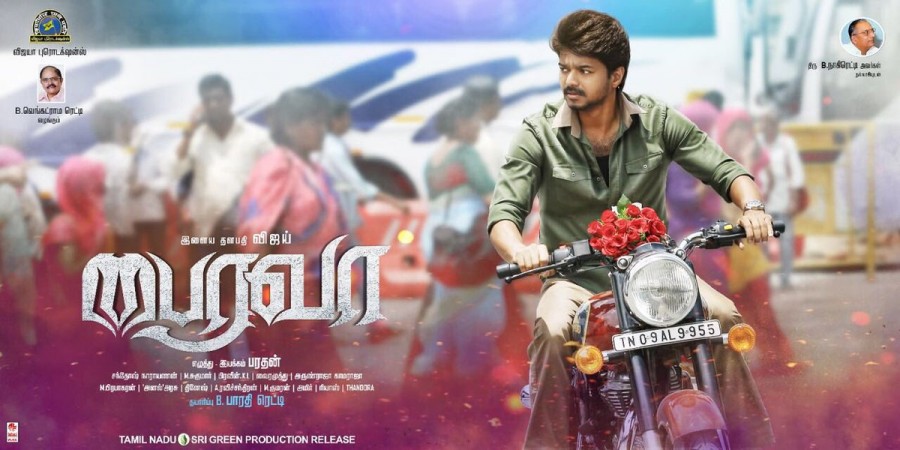 Bairavaa (Bhairava) Cast and Crew:

Director
Bharathan
Producer
Vijaya Productions
Cast
Vijay, Keerthy Suresh, Jagapathi Babu, Sathish, Daniel Balaji and others.
Music
Santhosh Narayanan
Cinematography
Sukumar
Release date
12 January 2017
Runtime
2.48 hours
Rating
2.75/5
Bairavaa starring Vijay was released on Thursday, 12 January, ahead of Pongal festival. The movie has garnered mixed reviews with fans appreciating Ilayathalapathy's screen presence and action sequences. The screenplay has come under a lot of criticism from the audience.
Bairavaa Movie Review: Ilayathalapathy has joined hands with Bharathan for Bairavaa, with whom he had worked in Azhagiya Tamil Magan, which was not a big hit at the box office. Keerthy Suresh plays the love interest of Vijay in the film, which also has Aparna Vinod and Papri Ghosh in the important roles. Popular Telugu actor Jagapathi Babu is the villain in the Tamil movie, which has Sathish, Mime Gopi, Rajendran, Sreeman, Sharath Lohitashwa, Sija Rose, Sugunthan and others in the cast.
Take a Look at the list of Vijay's Films released for Pongal | Celebration Begins for Vijay Fans | Latest Movie Pics of Bairavaa
M Sukumar has handled the cinematography, while Praveen KL has edited the flick. Santhosh Narayanan has composed the music and Nillayo, Azhagiya Soodana Poovey and Varlaam Vaa songs have impressed the viewers.
Bairavaa (Bhairava) Story:
Bairavaa deals with a topical issue and exposes the medical college mafia. The movie attempts to portray the problems from the common man's perspective after the hero's girlfriend Malar Vizhi (Keerthy Suresh), whose dreams of becoming a doctor is shattered by powerful educationalist PK (Jagapathi Babu). Ilayathalapathy plays the role of an ordinary man, who stands up for a cause and becomes the voice of the people.
Review & Rating
People have praised the performance of Vijay. He carries Bairavaa on his shoulders due to the weak story. The action sequences have come for huge appreciation. The cricket scene and interval block are the other attractions. The second half is below expectations, say cine goers.
Average Ratings Given by Audience: 2.5
Below, we bring to you the audience's response to Bairavaa.
Thiru: #Bairavaa - Thalapathy Screen presence is stunning.1st half super. Bharathan could have trimmed few scenes in 2nd half.Watchable 2nd half.
Bairavaa - Vijay mass is vera level.. his screen presence lift the scenes to a another level. especially gun scene and interval block. Massy
#Bairavaa - Thalapathy charisma and bgm -big plus for the film.interval block watched fdfs @devi /another show in ags only for thalapathy.
Abishek S: Little more trimming can actually minimize the distractions! 1st half is low on entertainment but high on story telling! #bairavaa
Yet anodr @actorvijay film that 1ns again guarantees infotainment! Wid just d familiar set up n packaging being a complaint, #Bairavaa is ok
Visuals r rich n cuts r apt. Wig doesn't seem to be a misfit n @Music_Santhosh packs a punch wid d Bgm. Interval leads 2 cat n mouse game!
Gone down by few kilos, @actorvijay is easily the fittest actor in town! Dialogues and witty counters set a rhythm to 1st half #bairavaa
Sreedhar Pillai: #Bairavaa 2.5/5. Lacklustre, a bumpy ride. Story and presentation is outdated. The only thing shining is #Ilayathalapathy's charisma.
#Bairavaa 2.5/5. @KeerthyOfficial does a neat job in a pivotal heroine role. However villain characters r not well etched.
#Bairavaa 2.5/5. Wished Bharathan had put in more effort in his writing and packaged it with style .Story is a rehash of his earlier scripts
#Bairavaa 2.5/5. Action blocks r crisp, mainly one- over cricket match & Petrol drenching scenes. @actorsathish as hero side kick is fun
Subhakeerthana: #Bairavaa deals wit d corrupt medical education system in India. Quite a relevant concept... execution could have been better. @actorvijay
#Bairavaa moves at a brisk pace and there's of course, this 'mass' touch involved. Loved the dialogues. @actorvijay
At the same time, #Bairvaa is way better than #Villu and #Sura. @actorvijay makes the film watchable.
Punchlines, action, sentiments, romance, comedy -- #Bairavaa has everything except logic. Fans who adore @actorvijay will like the film.
#Bairavaa: A pucca @actorvijay film. Nothing more, nothing less. Despite logical loopholes all around, it will work at the box-office.
The laughs come in regularly. Thanks 2 @actorsathish. #JagapatiBabu was terrific. #Bairavaa is a clap & whistle film. Go for it! @actorvijay
When you walk out of the theatres, I am sure you'd hum #Varlaam #Varlaam #Vaa #Bairavaa... Songs are catchy; simple tunes yet effective.
Ramesh: #Bairavaa [2.75/5]: Among Villains, #DanielBalaji makes a good impression.. Rest of the supporting cast are OK.. #ThambiRamaiah is wasted..
#Bairavaa [2.75/5]: @KeerthyOfficial has good scope in da 1st half & has done well.. @actorsathish 's counters r enjoyable.. Gud outin 4 him
#Bairavaa [2.75/5]: Cricket Fight, Pre-interval Action sequence, Confrontation with #DanielBalaji and Punch dialogues make Fans go crazy..
#Bairavaa [2.75/5]: #Ilayathalapathy #Vijay 's acting and screen presence r the major highlights.. Looks fresh, youthful and energetic..
#Bairavaa [2.75/5]: An Entertainer which tackles the issue of corruption in Private Higher education system.. Has enuf Mass Moments for Fans
Vignesh Kandaswamy: #Bairavaa - Average. Entertaining 1st half with a very average 2nd half. Screenplay and Logics goes wayward in later half. Watchable(2.75/5)
#Bairavaa - Seems Bharathan wants to give a mix of Kaththi and Veeram. The pattern of the movie was very similar to what Veeram had.
#Bairavaa - Good Cinematography and Stunts throughout. Koyambedu set by Muthuraj deserves a thumbsup. Editing not that good.
#Bairavaa - Cricket Scene, Interval scene, 1st meeting with Daniel are the noteworthy mass scenes in the movie.
#Bairavaa - In a template mass movie, what matters is the new mass scenes. Bharathan falls short of new ideas and execution in 2nd half.
#Bairavaa - Vijay is the Pillar of the movie. He holds on well but could have avoided his not so good childish body language in some scenes
Cine Tent: #Bairavaa 3/5 As it is @actorvijay steal d show.. Power packed Interval fight & Decent court scene r d biggest pluses...
#Bairavaa 3/5 #Ilayathalapthy carried d whole movie single handedly... Bharathan failed to balance the other characters.. m
#Bairavaa 3/5 Breezy first half with well executed cricket fight & Terrific Interval Block fight...Likeable...
#Bairavaa 3/5 Lagging screenplay in d second half is d worst part of the movie and Director should have trimmed d 2nd half by 20 min
#Bairavaa 3/5 Major drawback in #Bairavaa is @actorvijay has not utilised properly & there is no enough screen space for him...
#Bairavaa 3/5 The conversation with that doctor is much appreciated & the msg conveyed by the Director is respectable and much needed
#Bairavaa 3/5 Director should have concentrate more in screenplay as well as the mass scenes... commercial movie demands that..
Ck Mohammed: #Bairavaa : will wait for few months to watch complete mass entertainment from @actorvijay, hopefully by @Atlee_dir later this year.
#Bairavaa : strictly for fans, movie ends on a slighter sad note, Bairavaa is a decent mass festival entertainment for the long weekend.
#Bairavaa : Film raises voices to the most important social happenings, takes on all educational institutions heads & their activities.
#Bairavaa : SaNa's BGM, with #VaralamVaralamVaa theme been used for octane action sequences are another major highlights. Cinematography
#Bairavaa : Director makes us enjoy the first half, second half turns out to be a let down, the energy among fans have already gone.
#Bairavaa : Pre-Interval & Climax sequences are the highlights of the film. They could have been trimmed a lot to avoid lags in 2nd half.
#Bairavaa completely on the shoulders of @actorvijay, with mass moments tailored for him, explosive stunt works, cricket fight sceneFull of mass elements, interval block fight sequence, best so far. Ilayathalapathy THUNDERING as always!! #Bairavaa
Rajasekar: #Bairavaa first half - Bharathan got the packaging right. Ilayathalapathy Vijay completely steals the show, @Music_Santhosh BGM mercel
#Bairavaafirsthalf - good thing is that the film is not a mass masala. Story driven with perfect mass elements. Interval block - Theri
#Bairavaa first half - @KeerthyOfficial fits the bill as a homely nellai girl, gets the dialect right
#Bairavaa - Second half is just average, ends up just as a watchable commercial potboiler.
Sidhu: #Bairavaa: Flipside - should have been 20 minutes shorter with better songs. Could've avoided the lags in the second half that way.
#Bairavaa: The combo of Vijay, cinematography, stuntwork & SaNa's theme result in superb mass scenes. Best thing about the film.
#Bairavaa: Bharathan's first half is definitely superior to the second, but once again, his dialogues work very well. A pat for that.
#Bairavaa: Fine festive entertainment. Vijay zooms up the excitement in this everyday fare through his incessant charm. Likable mass movie.
#Bairavaa Interval: Delivers what it promised, a trademark Vijay entertainer so far. He's in fine form, mass moments working out big time!
Kaushik LM: #Bairavaa -Has a social msg about the need for educational institution heads to also be well-qualified.
1st half & #Vijay's screen presence
#Bairavaa - 1st half is the better one. But #Vijay & festival will ensure a Hit His fitness,agility are astounding(inc the shirtless scene)
#Bairavaa 2nd half - Shifts to Tirunelveli. Gets into typical commercial mode with #Vijay taking on Jagapati, family sentiments etc. Okayish
#Bairavaa 1st half - Good to see SaNa in form with his RR, big +. The way #VarlaamVarlaamVaa explodes in the interval is adrenaline pumping
#Bairavaa 1st half highlights -Rocking cricket fight, the funny rowdies, the dreamy #Nillayo, flashback & the theri interval fight. #Vijay
#Bairavaa 1st half - Starts as a light entertainer, moves to a serious medical college flashback and has an explosive interval block. Good
Haricharan Pudipeddi: Nevertheless, four solid, extremely well choreographed fight scenes and #Vijay's effervescent screen presence makes #Bairavaa a decent watch
And as expected a very mediocre second half in #Bairavaa makes you walk out of the hall with an iota of disappointment. Bummer...
Interval bangs keep getting better and better with each #Vijay film and it reaches all new heights in #Bairavaa
ChristopherKanagaraj: #Bairavaa | 2nd half - Template cat and mouse game btn hero and villain. Court scene and social mesg gud! Liked 'Papa' dance choreo! Lengthy
#Bairavaa | 1st half - Interval block fight mass, flashback, 1st 20 mins slow. Bgm sema, Vijay & Keerthy superb pair :) Pakka commercial.
#Bairavaa - Good 1st half, Avg 2nd half. Highlights - Interval block fight & its placement, Court scene, coin flip scenes, Bairava theme.
Ramesh Bala: #Bairavaa 1st Half: #Ilayathalapathy Vijay and @actorsathish scenes r semma fun.. Cricket and Bus Stand fight sequences r Mass..
#Bairavaa 1st Half: Going good so far.. #Ilayathalapathy Vijay has Pattiyaa Kizhappi Irukkaar in Fight sequence and punch dialogues..
Praveen: #Bairavaa — Anyhow,feel #Vijay fans & masses will embrace this one.Pure festive entertainer for family audiences given the Pongal holidays.
#Bairavaa — @KeerthyOfficial does her part well, @actorsathish makes it a fun riot.As usual the villains are mere caricatures & nothing more
#Bairavaa — #Vijay's inimitable fitness, mass moments in stunts, theme music & cinematography are worth mentioning. A sure delight to watch.
#Bairavaa — Director Bharathan's core storyline has the potential to be liked. If only its screenplay had been more coherent with no lags.
#Bairavaa — Highly entertaining first half, however post interval takes a u-turn and is riddled with holes in the plot line & turns tedious.
#Bairavaa — 2.5/5 Routine formulaic story but with half baked screenplay.The entire film relies outright on #Vijay's larger than life image.
#Bairavaa interval : Follows conventional commercial pattern. Fairly delightful so far with Bharathan's packaging, impressive bgm by #SaNa.
#Bairavaa interval : #Ilayathalapathy #Vijay is extravagant & plays to his gallery of fans. Back to mass masala mode. Theri interval block!
JOHN: #Bairavaa :- Costume styled by NjSatz for #Ilayathalapathy #Vijay looks amazing & Music_Santhosh 's music works at some place ..
#Bairavaa :- Expect #Vijay 's Wig & Make up everything is perfect..He steals d show & especially in Bare body sequence Vijay luks too young
Santhosh Rupert: #Bairavaa #review
A mixture of all previous flops. Utter disappointment 2.5/5.0 @actorvijay @KeerthyOfficial @VijayaProdn
First half looks solid. Second half big disappointment 2.5/5.0
First half looks solid. Expecting a promising second half
@actorvijay @KeerthyOfficial @VijayaProdn @SriGreen_Offl
First half looks solid. The down side is majority of the punch is lost already
@actorvijay @KeerthyOfficial
@vaikunth10 @actorvijay @KeerthyOfficial @VijayaProdn So far looks cool. Not exceptional but solid
First half looks solid. Expecting a promising second half
@actorvijay @KeerthyOfficial @VijayaProdn @SriGreen_Offl
Sabithan: Cool guys its interval now 1st half report on the way #Bairavaa
#Bairavaa first 45 mins romance + comedy @actorsathish 's one liners then movies main plot revealed. Keerthy tells her situation to vijay
Yes a lil bit long flashback but the sentiment scenes awesome @KeerthyOfficial 's acting in emotional scenes really superb
@KeerthyOfficial after all the pre interval fight and @actorvijay 's punches goosebump moments
Barathan's dialogues really awesome and catchy. SaNa's BGM ( ivanunga podda saththathula paathi neeam sound eh kekkala)
I am damn sure illayathalapathy's game starts now ( second half ) start will post full review after movie ends
@Alive_to_LOVE 3/5
Ramya Parthasarathy: #Bairavaa @actorvijay nice movie, loved the climax.. body language of vijay was excellent throughout the movie! A power packed performance!
#Bairavaa Premiere Show from Singapore! First half rocking! Different acting prespective from Illayathalapathy! Sure hit!
Mohamed mihath: #Bairavaa @actorvijay nice movie, loved the climax.. body language of vijay was excellent throughout the movie! A power packed performance!
#Bairavaa - Still i want vj to do a quality movies as these types pf movies from him is done and dusted.