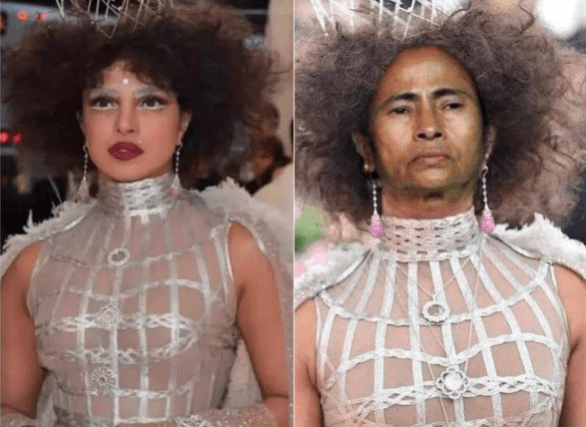 BJP activist Priyanka Sharma was released on bail on Tuesday after she was arrested for making a meme on West Bengal Chief Minister Mamata Banerjee. The meme was an image of the face of Banerjee superimposed on the face of Bollywood actress Priyanka Chopra at the Met Gala.
The image went on social media on May 10 was shared by Sharma, who is BJP's Yuva Morcha leader.
This image drew the ire of many Mamata Banerjee supporters who called her out and led to her arrest. The Supreme Court on May 14, Tuesday, let her out on bail and asked her to apologise to the West Bengal chief minister for the insensitive image.
An official of Howrah City police's Cyber Cell told TOI that a complaint against Sharma was lodged at the DFasnagar Police station. The FIR accused her of uploading and sharing Mamata Banerjee's meme which featured a morphed image of the West Bengal chief minister ion the face of Priyanka Chopra. This image allegedly violated the community guidelines on Facebook.
Those who were on Priyanka's side were against her arrest and started a social media campaign with the hashtag #ISupportPriyankaSharma. The users of the hashtag commended Priyanka Sharma's act and mocked Mamata Banerjee and her supposed intolerance for the freedom of speech and expression. They asked why Priyanka was not given the fundamental right in the constitution of India.
Here are some of the reactions after news broke out that Sharma was released but had to apologise to the West Bengal chief minister.