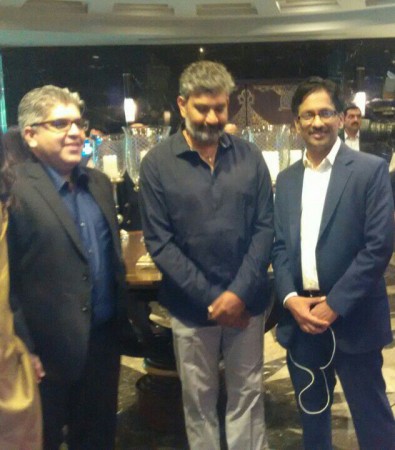 Director SS Rajamouli, the creator of the 'Bahubali' film series, has won the CNN News 18's Indian Of The Year of 2015 in the entertainment category at a grand function held at 7:00 p.m. on Thursday.
The bosses of CNN News 18 held the 10th edition of Indian of the year and the ceremony was attended by several dignitaries from politics, sports, entertainment and business. Union Minister Arun Jaitley, Deepika Padukone, Kangana Ranaut, Ranveer Singh, Sania Mirza, Mahesh Bhoopathi and SS Rajamouli and Chinmayi Sripada were among some celebs, who graced the occasion.
SS Rajamouli was one of the celebs, who were honoured with Indian of the year for 2015 on the occasion. The bosses of News18 ‏tweeted on its Twitter handle, "Many congratulations to Bahubali film director @ssrajamouli for winning #IndianOfTheYear in entertainment category." They added, "#IndianoftheYear @ssrajamouli gives the credit to the entire @BaahubaliMovie team."
Noted film critic Rajeev Masand also tweeted, "#Bahubali director & visionary @ssrajamouli wins @CNNnews18 #IndianoftheYear - Entertainment category." The bosses of News18 ‏tweeted, "#IndianOfTheYear @RajeevMasand asks @ssrajamouli what we all want to: 'Katappa ne Bahubali ko kyu mara'?"
It was a proud moment for many Tollywood celebs and fans of director SS Rajamouli, who was flooded with congratulatory messages from them. Here are some Twitter comments of celebs and fans.
Baahubali ‏@BaahubaliMovie
Congratulations to our director @ssrajamouli on being felicitated with @CNNnews18's #IndianOfTheYear 2015 in the Entertainment Category :)
Gunasekhar ‏@Gunasekhar1
Congratulations on becoming #TheIndianOfTheYear #RajamouliSS
KK Senthil Kumar ‏@DOPSenthilKumar
Congratulations #SSRajamouli on being felicitated with News18's #IndianOfTheYear 2015 in the Entertainment Category
RJV ‏@RJV4U
#IndianOfTheYear @ssrajamouli .. Totally Deserving .. Proud moment for Film Industry
VamsiKaka ‏@vamsikaka
Proud moment for Telugu Movie Lovers.. .@ssrajamouli won the #IndianOfTheYear award in the entertainment category. #Baahubali
Suresh Kondi ‏@V6_Suresh
Congrats @ssrajamouli sir for the #IndianOfTheYear award.. Proud moment for us.. #Bahubali
Praveen Tiwari ‏@Proficient96
Congratulations @ssrajamouli 4 winning #IndianOfTheYear award n making 1 f d finest mve with amazing special effects
Kaushik (LMK) ‏@Lmkmoviemaniac
Kudos to @ssrajamouli on being felicitated with CNN's #IndianOfTheYear 2015 in the Entertainment Category
Maheshbabu Fan Club ‏@MaheshBabu_FC
Congrats @ssrajamouli Garu @CNNnews18 #IndianOfTheYear - Superstar @urstrulyMahesh Fans #Baahubali