India's badminton team has lodged a protest against the Japan team for "wanting to lose" a women's Olympic doubles match against Taiwanese opponents after India's pair failed to qualify for the knockout rounds, India's coach said on Wednesday.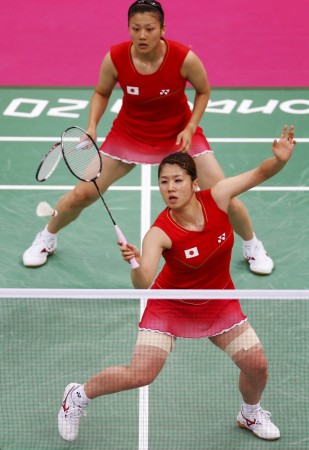 The protest came after the Badminton World Federation (BWF) disqualified eight badminton players from China, South Korea and Singapore from the women's doubles event at the ongoing London Olympics after being accused of "throwing away matches" for favourable draw in the knockout rounds.
"We put in an appeal protest this morning and the BWF (Badminton World Federation) has come back saying they didn't find any bias or anything beyond the ordinary in the matches. We've filed an appeal to review that decision," Pullela Gopichand told the Olympic news service.
Taiwan's Cheng Wen-Hsing and Chien Yu-Chin, who lost to India on Monday, beat the top players of the group Mizuki Fujii and Reika Kakiiwa of Japan 21-19, 21-11, avoiding elimination.
Indian team of Jwala Gutta and Ashwini Ponnappa did not make it to the quarterfinals in spite of beating Shinta Mulia Sari and Lei Yao of Singapore 21-16, 21-15, as Taiwan beat Japan in a crucial match.
Tuesday saw two teams from South Korea and one each from China and Indonesia earning the wrath of the spectators by intentionally playing bad shots to throw away matches, thus prompting the BWF to disqualify the concerned teams.
The players, who have been disqualified, are Chinese pair Wang Xiaoli and Yu Yang, Indonesia's Greysia Polii and Meiliana Jauhari and two South Korean pairs Jung Kyung-eun and Kim Ha-na, and Ha Jung-eun and Kim Min-jung.
Spectators at Wembley Arena jeered Yu Yang and Wang Xiaoli of China and Jung Kyung-eun and Kim Ha-na of South Korea on Tuesday night as the teams were trying to lose the match for favourable draw in the quarter finals. Both the teams that have qualified for the quarter-finals tried to lose the match to avoid meeting the Chinese pair of Tian Quing and Zhao Yunlei.
South Korea ended up winning the match 21-14 21-11.
In yet another match, South Korea's Ha Jung-Eun and Kim Min-Jung and Indonesian pair Meiliana Juahari and Greysia Polii that had qualified for the quarter-finals, tried to throw away the match to avert playing against Yu and Wang of China.
South Korean coach Sung Han-kook admitted that his teams had attempted to throw away matches after China resorted to farce match to avoid the clash of its teams in the quarter finals. He blamed the Chinese for starting the farce game play.
(With Inputs from Reuters)