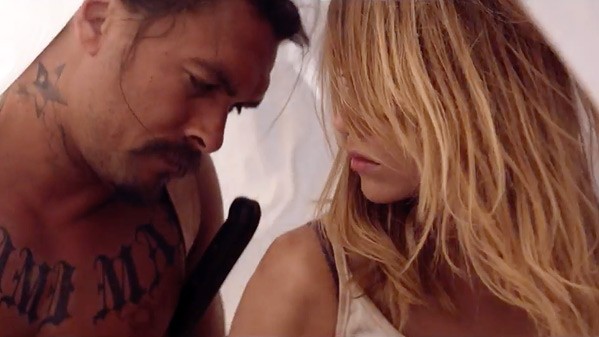 The second trailer for The Bad Batch has been released by Neon. The romantic-horror film is directed by A Girl Walks Home Alone at Night (2014) helmer Ana Lily Amirpour.
Also read: The Hitman's Bodyguard trailer shows hilarious riff between Ryan Reynolds and Samuel L Jackson
Described as a psychedelic dystopian love story with cannibals, the film revolves around a place in the US which is full of murderers, drug dealers, illegal immigrants, and more than everything cannibals. The American romantic horror thriller film has Jason Momoa, Keanu Reeves, Suki Waterhouse, Glovanni Ribisi, and Jim Carrey.
The Bad Batch trailer opens with Arlen (Suki Waterhouse) trying to drag her body while dumped at a desert wasteland outside of Texas (which is not in America). In the movie, she is trying to adjust in her new life as a member of The Bad Batch. As trouble follows her incessantly, she is captured by a savage band of cannibals and quickly left without an arm and leg. These bad batch folks are notorious for their pretty badass characteristics. They are tattooed with a certain identification number.
Apart from Keanu Reeves playing Dream and Jim Carrey as the character of Hermit, we get plenty of splendid visuals of Aquaman actor Jason Momoa's character in the trailer. He is playing the role of a Miami Man.
Ana Lily Amirpour's highly-anticipated film was selected to compete for the Golden Lion at the 73rd Venice International Film Festival. But it did not garner much applaud.
The official synopsis of the film reads:
The highly anticipated follow-up to Amirpour's acclaimed directorial debut, A GIRL WALKS HOME ALONE AT NIGHT, THE BAD BATCH follows Arlen (Waterhouse) as she is unceremoniously dumped in a Texas wasteland fenced off from civilized society. While trying to orient her unforgiving environment, she is captured by a savage band of cannibals and quickly realizes she'll have to fight her way through her new reality. As Arlen adjusts to life in 'the bad batch' she discovers that being good or bad mostly depends on who you're standing next to.
The film is produced by Annapurna Pictures' Megan Ellison alongside VICE's Danny Gabai and Sina Sayyah. It is scheduled to be released on June 23. You can watch the first trailer below.