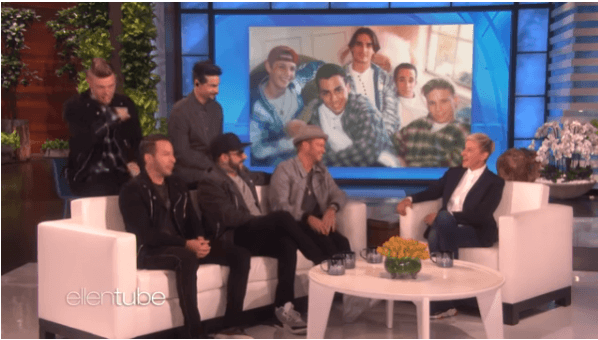 The Backstreet Boys are back alright! Appearing on The Ellen DeGeneres Show, the world-famous boy band dished out some really hot, steamy and dirty secrets. Playing a game of "Never Have I Ever", they shocked fans with their revelations. Ellen didn't hold back with her questions, trying to delve into the secret history of the boy band.
Band members Nick Carter, Kevin Richardson, Brian Littrell, Howie Dorough, and AJ McLean were all excited as well as a little nervous on Ellen's couch.
Ellen doesn't pull her punches as she asks the band if they ever slept with a groupie, all the boys except Kevin turned their paddles to "I Have".
The next question was whether the boys had joined the mile high club, which is a euphemism for "doing the deed", on a plane. The answer to this question was surprising as Nick, AJ and Howie claimed that they had not but surprise, surprise, Kevin and Brian had.
The questions kept coming, each delving deeper and deeper into the band's secrets. Another awkward question that came up was if the band had ever experienced a mix-up while dirty texting or sexting someone. Only AJ came clean on experiencing such an embarrassment. The Backstreet Boys wrapped up the show by performing, "I want it that way", with actress Emily Blunt.
Watch the hilarious video below: